Best of Apple Cider 2016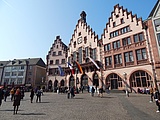 You have voted: And here's the result of our 2016 Best of Cider poll! Full-bodied taste, golden color, pleasant acidity: This year's Best of Apfelwein comes from the Possmann wine press. In the wine press house in Rödelheim, Frankfurt's most popular varieties from the classic, to Frau Rauscher to apple wine mix drinks are pressed. And this, meanwhile in the fifth generation.
In the online voting and the vote at the 8th International Cider Fair in the Gesellschaftshaus of the Frankfurt Palmengarten, the Kelterei Possmann could clearly prevail over the competition. Our last year's winner, the Kelterei Schneider from the Obsthof am Steinberg in Frankfurt/Niedererlenbach, came second in our Guden Stöffche. Third place was won by the cider from the traditional Bornheim restaurant "Zum Solzer".
In the region, two wine presses were in a neck-and-neck race: Born in the Wetterau and Bembel with care. This year, the "Local Stöffche" of the wine press professionals from Born in the Wetterau prevailed. Our last year's winner Bembel with are came in second, ahead of the IKF Kirdof, the Interessengemeinschaft Kirdorfer Feld e.V.
Thanks a lot for taking part - and keep on enjoying it! Dirk Preußner can enjoy it especially well in the near future. He wins a 100 Euro voucher for apple wine specialities from Possmann. Cheers! By the way: Such an Äppler tastes best in company, if you don't manage to use up the voucher, we'll be happy to help.
Congratulations to all winners!
Your Frankfurt-Tipp Team


Winners Frankfurt
1. Place: Kelterei Possmann<x><BR</x>2nd place: Kelterei Schneider, Obsthof am Steinberg<x><BR</x>3rd place. Place: Apfelwein Solzer


Winners Frankfurt area
1. Place: Born in the Wetterau
2nd place: Bembel with Care
3rd place: IKF Kirdorf