I don't know about you, but I've been living in Frankfurt for most of my life now and still there are quite a few places I don't know yet. And not necessarily because they wouldn't interest me anyway. No, I admit that a bit of comfort was the reason why I only moved out of my neighbourhood when I really had to. But then I got busy with the beautiful UNORTE books, which really made me want to visit some new places and unusual sights in Frankfurt as well. And since I had the opportunity to test the mobility app QIXXIT as part of a cooperation, there was no excuse not to put this plan into action right away.
As the first place for my journey through Frankfurt, which was unknown to me so far, I chose the Green Sauce Monument due to a very personal preference. Because I simply must have seen an appreciation of this delicacy. So off to the app store and QIXXIT searched. Quickly downloaded and easy to use, it won me over right away. When starting at the main station, the app shows me several possibilities how to get to the monument for the "Grie Sooß". The easiest would be to take a taxi. But that would be kind of boring. I could also use a ride-sharing service via "flinc". A certain Jens would be close by with his car. Inexpensive, but also not exactly what I had in mind. In the end, I decide to take the S-Bahn, which, as the app tells me, is a little late, but arrives in two minutes. So I hurry to the S-Bahn - I should definitely do more sports - and take the S1 to Mühlberg.
I know the station only from passing by. So here again the QIXXIT-App is needed, which guides me unerringly to the tram stop. My strong sense of direction and the app are a really good team. Okay, my lack of sense of direction and the app are a good team - let's stick to the truth. I now take the tram into completely unknown territory on the outskirts of Oberrad. People living here may forgive me, but my first impression is that it's not necessarily the prettiest corner of Frankfurt. But the view of the skyline certainly compensates for the somewhat desolate corners through which the app guides me from the train to the monument. Once there, I am first annoyed that I came here in the middle of the day. Because unlit, the monument consisting of seven small greenhouses does not look very impressive. Maybe I should have just saved myself the trip and rather eat green sauce.
Na great, now I'm hungry! So I postpone my trip to the next unknown place and let the app guide me to the Kleinmarkthalle. QIXXIT suggests me here again different variants and this time I almost choose the taxi, before I remember that I have solved a day ticket. So off into the tram again, back to Mühlberg and take the S2 to Konsti. Here I know myself of course, as in my vest pocket, but purely out of interest I look up which way from the S-Bahn station is suggested to me to the Kleinmarkthalle. In fact, it is exactly the footpath that I always walk anyway. After about 5 minutes I stand at the greengrocer of my choice and tell about my disappointment about the monument. Quickly between the nice saleswoman, two other customers and me a hearty heated discussion about where you can eat particularly good green sauce in Frankfurt. Thereby the name "Ebbelwoi Unser" comes up.
I've heard a lot of good things about this place, but I've never been there myself! So still spontaneously visit another unknown place and end my green sauce day tasty? There is not much to think about. Immediately, the cell phone is pulled out - first to call a good friend and talk him into Grie Sooß and apple cider, and then of course to continue my QIXXIT experiment. Yes, I know I said earlier that I needed to exercise more. So maybe I should walk the manageable distance before filling my belly with schnitzel and green sauce. But in the name of science, I can't do that. So I asked the app and then headed for bus 36, which takes me from Börneplatz to Affentorplatz in just four minutes. Another three minutes on foot, and I'm standing in Abtsgäßchen in front of "Ebbelwoi unser". Problem: The shop opens in 10 minutes and my buddy will be there in 20 minutes at the earliest. So I still have enough time to stroll a little through the Sachsenhäuser Brückenviertel and review my trip.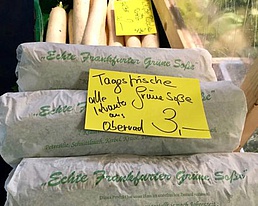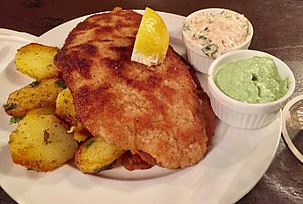 My conclusion: The Green Sauce Monument should only be visited after dark. Public transportation actually gets you out of your usual comfort zone for a change. And the QIXXIT app is a real recommendation. Not only because it generally shows you the right way. But also because it shows you various alternatives that can save both time and money. Of course, this is not only true for the city area, but also for other routes. And the fact that tickets can also be purchased conveniently via the app is a very positive side effect.
The finale of the tour at the "Ebbelwoi unser" was then without a doubt the highlight of the day. Not only that the schnitzel with green sauce, as well as the eponymous Ebbelwoi were just too delicious. Also the rustic atmosphere and the super-nice service contributed to the fact that this evening will remain in tasty memory. And while lingering in the very well-attended restaurant, I immediately arranged the next tour with my buddy. Because we both have never been for a walk in the Schwanheim dunes, where it is supposed to be very beautiful. How do we get there? No problem, because I have the app ;-)
What do you find where?
The Green Sauce Monument: In Oberrad, Kochstraße, corner Speckgasse, on the edge of the herb fields
The Kleinmarkthalle: Hasengasse 5-7, 60311 Frankfurt am Main,
Ebbelwoi Unser: Abtsgäßchen 8, 60594 Frankfurt am Main, Facebook
QIXXIT:
The app is available for iOS and Android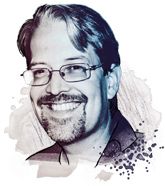 Text by Sebastian Betzold