For some time now Frankfurt has been enriched by a culinary discovery: rapper and restaurateur Hassan Annouri has opened the BA`GHETTO in Schäfergasse. He has managed to give the shop a very special character despite its very small size, which is also reflected in the very tasty selection of filled baguettes. The guest has the choice between six variants with which the very fresh and crispy baguettes can be filled, all named after classic Hollywood gangster films. "Good Fellas", for example, is topped with chicken, salad and sauce of your choice, while "Donnie Brasco" offers lamb, salad and a sauce of your choice. "The Godfather" combines fried egg and salad, "Pulp Fiction" comes along with juicy minced meat and in "Scarface" Merguez, a spicy minced meat sausage from the Maghrebian kitchen, is placed on a baguette. Finally, the "American Gangster" is the perfect choice for anyone who likes tuna.
After selecting the topping, the meat, chicken or fried egg is freshly prepared in front of the guest's eyes. From the remaining ingredients (salad, onions, olives, tomatoes, cucumbers) the guest can choose everything he wants on his baguette. With the sauce you have the choice between gentle and slightly sharper. Who is not accustomed to sharpness, for him could be also already "a little bit sharp" too sharp. This spicy variant is highly recommended to all others.
We tried the "Good Fellas" and "Donnie Brasco" during our visit. The meat was very tender, all ingredients tasted fresh and the sauce gave it a special flavour. The service was very friendly and helpful. And also the selection of cooled and warm drinks (Nana tea or coffee from the neighbouring espresso bar) left nothing to be desired. With the very good taste and the good feeling of saturation, which is the result of a baguette with plenty of food, it can also be said that the price-performance ratio is absolutely right here.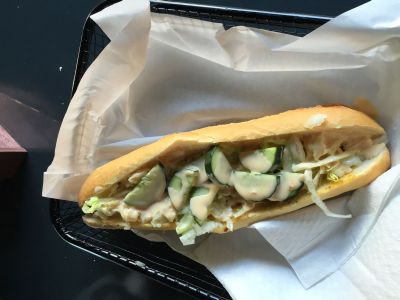 If you are looking for a tasty snack away from the usual fast food offers, with fresh ingredients and delicious choices, a visit to the BA`GHETTO is highly recommended.
Address: Schäfergasse 42, 60313 Frankfurt am Main
Further information can be found under: https://www.facebook.com/Baghetto-1695376760718126/
Text from: Sebastian Betzold