Sometimes you don't have to reinvent the wheel to offer your guests something delicious. That's what Mustafa Zürlüer and Georgie Hapidis thought when they had the idea for their own Currywurst store. While searching for a suitable location, they learned that a student dormitory was to be built in the building of the former public order office on Mainzer Landstraße. On good luck, Zürlüer and Hapidis applied for retail space in the house in early summer 2014 and were actually accepted a few months later. After some structural delays, the opening of their stylish Currywurst shop could finally be celebrated on 01 September 2016.
The various curry variations and degrees of sharpness were very well received by the guests who stopped by on the day of the premiere. The guest has the choice between fruity-sweet, lemony-mild, oriental, smoky or spicy. There is also the possibility to choose between seven sharpening levels, from 08/15 to Death Blow. You can choose between Bratwurst, Rindswurst and BIO-Vegan sausage. As a side dish there is bread or of course French fries. Everything can be ordered in different combination offers - whereby of course there is also a special student combination in a student residence.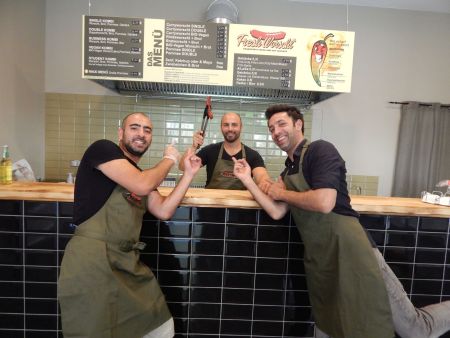 Whether as a tasty lunch snack for the employees in the surrounding offices or as nourishment for students who are not only hungry for knowledge - anyone who likes currywurst will definitely get their money's worth here. Of course Mustafa Zürlüer knows that they are using a proven concept here, but they want to give it their very own touch. And after long planning, a lot of passion and lifeblood, which was put into this culinary project in the past years, now only the hope remains that the FRESH WORSCHT will inspire and make regular customers out of as many guests as possible. And who knows, maybe there won't be any more delicious spicy FRESH WORSCHT taste creations on Mainzer Landstraße alone.
FRESH WORSCHT can be found on Mainzer Landstraße 323 near Gallus Warte and also on Facebook: https://www.facebook.com/FreshWorscht/