This year again Frankfurt-Tipp.de was looking for the best bread in Frankfurt and surroundings. On our homepage and via our Facebook page, users were asked to tell us where to get the tastiest bread in town. And your choice was clear: ZEIT FÜR BROT im Oeder Weg, still in 2nd place in 2015, climbed the winner's podium in 2016. At the presentation of the winning certificate, we were able to form our own impression of what makes this bakery so popular with its customers.
In times in which more and more traditional bakeries have to close and there are more and more branches of large chains, there are hardly any bakeries in which people actually bake themselves. Frozen dough blanks are often delivered by wholesalers, who then simply bake them up. It's cheaper, but it's clearly at the expense of taste. Unfortunately, more and more people are accepting this compromise, which is why more and more traditional bakeries are disappearing from year to year. There are just 14,000 companies in the whole of Germany. By way of comparison, in the 1950s there were still over 55,000! The fact that quality does not only have its price, but also needs time becomes a minor matter.
Not so with ZEIT FÜR BROT. Here the eponymous time plays an important role. This applies not only to the manufacture of the products, but also to their consumption. Here quality is offered and of course this should also be enjoyed - either at one of the places locally or in the circle of his loved ones at home. So that the customer can also see where his bread comes from, there is a bakery that is open to everyone. And should a question arise when looking over the shoulder of the bakers at work, the friendly employees are always ready to provide information.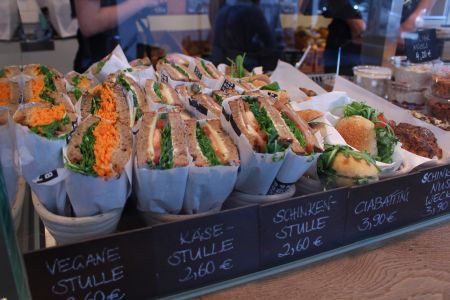 To guarantee the quality of breads, rolls and sweet bakery products, only products from the best ingredients from Bioland are used. In any case, sustainability plays a major role here: in addition to the ingredients from ecologically sustainable agriculture, great importance is also attached to ensuring that the suppliers come from the region. And which was not sold at the end of a day, does not land approximately in the garbage, but is donated to needy ones.
Who likes it gladly powerfully, that should seize absolutely to the grain crust (20% rye, 80% wheat). For those who like their bread a little juicier, there is only one choice: the delicious wholemeal juice grain. The rye and spelt grains, which are freshly ground here, are first soaked in water. This makes the bread particularly juicy and longer lasting. A delicious win-win situation. But also the mountaineer (30% rye, 70% wheat) or the grain baguette are real recommendations. The sourdough rolls should be tasted with the bread rolls absolutely. And a cheese seedings or an olive spelt bar are perfect snacks for in between.
p style="text-align: center;">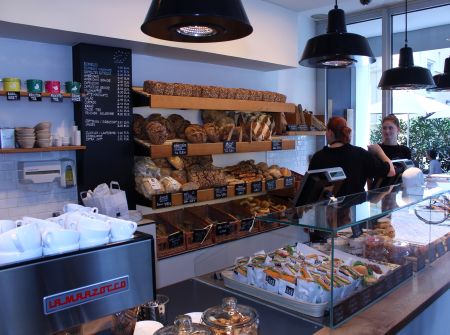 The almost legendary snails, which are classically available as cinnamon snails but also in other flavours (e.g. apple-cinnamon or cherry-marzipan), are a hit at ZEIT FÜR BROT. The snails are so popular that it can sometimes take a while until the sold out varieties are baked again. But you should also have time for this if you choose TIME FOR BREAD.
TIME FOR BREAD can be found at Oeder Weg 15 (near subway station Eschersheimer Tor), 60318 Frankfurt am Main
Opening hours:
Mo-Fr 7 - 20 o'clock
Sa 7:30 - 19 o'clock
So 7:30 - 18 o'clock
And you can read all about the BEST OF BROT 2016 choice HERE.
There is more info under: http://www.zeitfuerbrot.com/