Lars Obendorfer, Frankfurt's "Godfather of Worscht", is expanding his empire: as of now, there is a new branch of BEST WORSCHT IN TOWN at Schäfergasse 38 - the seventh in Frankfurt and the sixteenth overall. Whether in Grüneburgweg, the cradle of BEST WORSCHT, on Berger Straße, on Hanauer Landstraße or now in Schäfergasse - Lars Obendorfer's currywurst has a cult following far beyond the borders of Frankfurt and Obendorfer himself is already a minor celebrity with a major media presence. But why is that? Currywurst can be found everywhere - and there is nothing more than currywurst with bread and chips at BEST WORSCHT IN TOWN.
But the recipe for success is not the what, but the how! Because the currywurst doesn't taste as good as it does here everywhere. That starts with the garnish. Everyone who talks about BEST WORSCHT quickly starts raving about the extremely tasty bread. Juicy sourdough and a dark baked crust make the farmer's bread from the traditional Huck bakery a real treat. The crispy fries are also extremely tasty, even if they can't really compete with the bread. It speaks clearly for the quality of the delicious side dish, if this remains in the memory in such a way that one asks again and again, where one can buy the BEST WORSCHT bread then.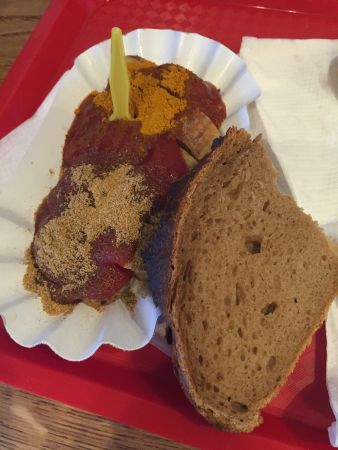 However, Obendorfer also places great emphasis on quality when it comes to sausage. Without the addition of artificial flavor enhancers, the bratwurst and beef sausages are made according to an old family recipe - and of course always fresh. The sausages are refined by different curry varieties, which can be spiced up by varying degrees of heat. And this is another secret of BEST WORSCHT IN TOWN's success: Here, guests can put together their own curry sausage according to their own individual preferences. Whether old school and without additional spiciness or as Jamabaya, Honey-Love and Pirate with degrees of spiciness from "Bissi Prickeln" to "Godfather`s Deathkiss" and "FBI" with a perceived 1,200,000 SCU, here is really the right thing for every taste.
The new store is kept entirely in the style that you know from other stores: simple, but modern and appealing. Tiled and painted in the typical BEST WORSCHT colors, with a sales counter in the middle and two standing counters on the sides. When we visited, we received very friendly service and good advice. And after two bites confirmed once again that here the name is program. Simply delicious!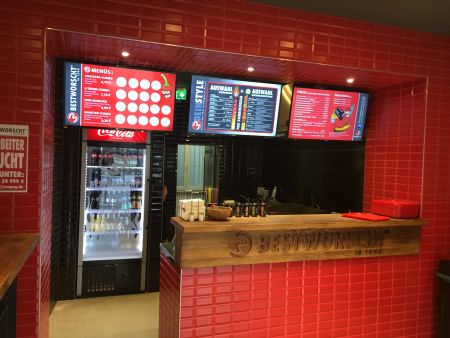 You can find the new branch at Schäfergasse 38, near Konstablerwache.
All further info about the other branches and the offer of BEST WORSCHT IN TOWN can be found at: