So close to the sky above Frankfurt: In the 22nd Lounge & Bar you can enjoy a breathtaking view of Frankfurt's city centre. There's something about sitting so loftily on the 22nd floor on comfortable lounge furniture! The location - only a few steps away from the Alte Oper, the Old Town and the Zeil - makes the lounge a good starting point for a tour of Frankfurt's clubs or cultural palaces. But also for an extensive bar evening you are here at the right address. The bartenders, such as Fabio, are really good and have already successfully participated in several competitions.
Our drink recommendation: "Take Thyme" (by Florian) with brandy, Licor 43, thyme, mint and ginger ale, fresh and round. Or Fabio's "El Oro" with Sears gin, gomme, chocolate bitters, lime juice, Goldberg tonic and gold leaf. Combined with piano music or DJ entertainment, these are good ingredients for a special evening with special people. At the 22nd Lounge & bar, it's first come, first serve - when live music is featured, coveted seats are sometimes scarce!
When: Monday through Thursday from 6 p.m. to 1 a.m. Friday through Saturday from 6 p.m. to 2 a.m. Closed Sundays.
Where?: Hanauer Landstraße 81, 60314 Frankfurt am Main
You can find more info HERE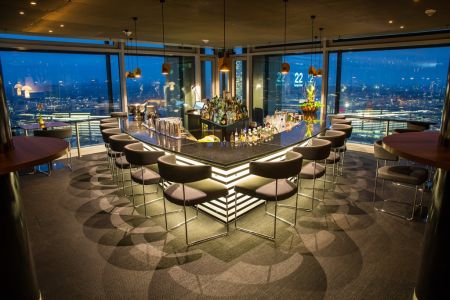 About the INNSIDE by Meliá Frankfurt Eurotheum
At the INNSIDE by Meliá Frankfurt Eurotheum, travelers are right in the heart of Frankfurt: Near the Old Opera House, the Old Town and the Zeil. The boarding house offers large and bright designer apartments. Floor-to-ceiling windows, an open bathroom - in the suites even with a bathtub with a direct view of the skyline. The fitness area in the Eurotheum offers fitness equipment, a relaxation zone and sauna