- Advertorial -
MAGGI - a name that has been with millions of people since childhood and that many of us associate with memories of meals with family, friends or grandparents.
The brand owes its continuing success to the fact that it always has its finger on the pulse of the times and is constantly reinventing itself against the backdrop of new food trends and changing eating habits.

MAGGI remains modern, MAGGI can do more - this is particularly evident in the MAGGI Cooking Studio Store in downtown Frankfurt, named "Store of the Year" by the German Retail Association (HDE) in 2018. The store, which is unique in Germany, impresses with its innovative concept: it combines a shop with a restaurant and an event location/cooking school. This has long since made it an insider tip for MAGGI fans and all those who want to become one.

3 in 1: Shop, Restaurant, Cooking School/Event Location
The integrated shop makes the hearts of epicures and cooks alike beat faster with its huge selection of helpful kitchen utensils, cookbooks, gift ideas and of course MAGGI fan articles. In addition to seasonal merchandise, all MAGGI products that are available on the German market are also offered - as well as various products that are not even available in other countries. What is particularly exciting is that all MAGGI novelties are offered here in the store first. Just the thing for gourmets who like to try things out! As a special goodie, the store also offers a unique service with personalized label printer for the iconic MAGGI bottle. Trained staff are on hand to offer advice on recipes, products or cooking tips.
In the invitingly designed food court with 40 very comfortable seats, delicious dishes are offered from a seasonally inspired menu featuring regional products, which always includes a vegetarian dish. For this, mainly fresh ingredients are used, refined with proven MAGGI products. The offer is varied and ranges from a selection of hot dishes and soups to wraps and various snacks.

In addition to a lunch menu (Mon - Sat from 11:00 - 16:30), all dishes are also available to take away. Here, the MAGGI Kochstudio Store also convinces through environmental awareness, because all packaging material as well as the cutlery are sustainably produced. In summer, friends of the sun also have the opportunity to enjoy their meal outside in the store's cozy summer garden.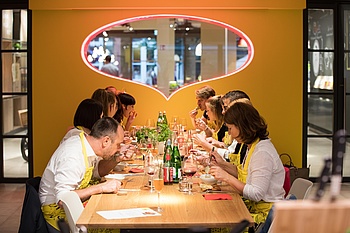 Finally, the third component in the store's unique concept combines an event location with a cooking school. It's about much more than simply ripping open a bag - the popular cooking classes allow beginners and advanced cooks alike to explore and celebrate a variety of different country cuisines. The relaxed and fun evenings under friendly and competent guidance offer helpful tips and tricks and, of course, delicious food. For small hobby cooks, the children's cooking courses are an ideal basis to sustainably promote their interest. Individual booking enquiries can be made by emailing kochstudio@maggi.de.

Due to the ongoing Corona pandemic, on-site courses cannot currently be offered, but it is possible to take part in online cooking courses. For more information, check out the MAGGI Cooking Studio Store website.

In addition to great food and inspiring cooking classes, the store also hosts a variety of great events. From comedy nights, readings and poetry slams to concerts, visitors can spend entertaining hours here with delicious food and drinks. The modernly designed premises including service can also be booked. Individual enquiries can also be made here by emailing kochstudio@maggi.de.

Always something new
At the MAGGI Cooking Studio Store, constant change is part of the overall concept. Whether it's dishes, recipes, course themes or events, the store is always surprising with fresh ideas and seemingly effortlessly combines tradition with innovation. A visit is always worthwhile, even for those who simply want to be inspired. The chance to finally go home enriched by a positive experience is definitely high.

Come by, the MAGGI Kochstudio team is looking forward to you!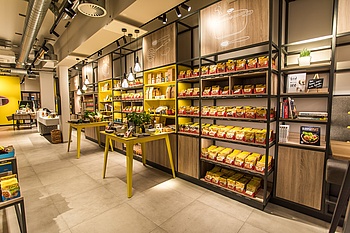 When? Monday - Saturday, 10 a.m. - 5 p.m., lunch from 11 a.m. - 4:30 p.m.
Where? Neue Kräme 27, 60311 Frankfurt
Contact:
Mail: kochstudio@maggi.de
Phone: 069 91399322
Instagram: @insidemaggikochstudio (new as of March 2021)