You're standing in the middle of the Zeil - and suddenly there it is: terrible hunger. Then we have a somewhat hidden, but still super central tip for you: the Spanish restaurant Centro Gallego. It's located on the Staufenmauer, just a stone's throw away from the Konstablerwache. For thirty years, the restaurant has been THE place to go for Spaniards in Frankfurt and for an international audience. From noon to night, you can expect the finest tapas and Galician specialties at moderate prices. Until a few years ago, the Galician cultural association was located here, but unfortunately it has since disbanded - but the food and the authentic ambience have remained. There is now space for hungry diners on three floors.
For twenty years, Centro Gallego has been run by Sotiris Spyridon and his wife Dolores Rodriguez. The couple met and fell in love in Frankfurt. Sotiris is Greek, Dolores comes from Galicia, from the region of A Coruña near Santiago de Compostela. At Centro Gallego, the chefs and the team put a lot of emphasis on authenticity. It's a cosy place to be. The ambience is just like the Galician cuisine down to earth, without much chichi. Just like in one of the countless small tapas bars in Spain. This is exactly what distinguishes Centro Gallego from many other Spanish restaurants in the area. Here, one can really feast. In addition, a cool Estrella beer or a vino - what more do you want? The testers of the trade magazine "Der Feinschmecker" also liked it at Centro Gallego. The team received an award in 2017 as one of the best country kitchens in Germany. From the sangria to the sauces and soups to the paella pan - everything here is homemade and fresh. Particularly recommended are Pulpo a la Gallega, the Croquetas, the Bacalao variations - and of course the Paella, which is available from two people and by advance order.
In Centro Gallego, the Spanish joie de vivre is enjoyed. A special highlight for regulars - and also for spontaneous visitors - is the broadcasting of Spanish league football matches in the restaurant. Then it can get louder. There is passionate commentary, discussion, cheering and ranting. It's fun to be there and enjoy the moment - provided you're in a good mood and you're not planning a romantic candlelight dinner. Everyone is welcome here (except dogs - they have to stay outside, unfortunately) who is looking for simple and good food - and unfortunately, that is often not so easy to find.
Despite the fact that the restaurant with its three floors is really huge by now, we recommend you to definitely make a reservation in the evening and best to pre-order the paella right away!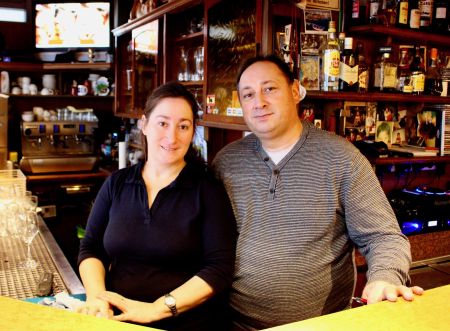 Address: An der Staufenmauer 14, 60311 Frankfurt am Main
Opening Hours: Tuesday to Sunday from 12:00 - 24:00, Monday: Closed (day off), the kitchen is open from 12:00 - 23:00
Find more info at: