Visiting Frankfurt Airport is actually always worthwhile, even if it's not on the next plane to one of the many holiday paradises served by flights from the Main metropolis. The airport is an exciting and versatile destination - even while the popular visitor terrace is closed during the winter months (01.11. - 25.03.2022). This is because there has recently been another attraction that makes a visit to Frankfurt Airport so worthwhile: the new multimedia Fraport Visitor Center in Terminal 1, Hall C.
Here, big but also young airport fans can experience a virtual airport discovery tour of a special kind. The various facets of Germany's largest commercial airport are revealed over an area of around 1,200 square metres, and there is informative information to be discovered about its development. Right at the start, a 55 square metre model of the airport invites visitors to explore the "city within the city" with the help of iPads. Around 80 points of interest provide interactive, interesting and sometimes surprising information about the airport and everything that keeps this huge clockwork running. Impressive light routes show the arrival and departure routes of aircraft and make it clear what distances the planes have to cover during take-off and landing alone. In addition, those interested can be directly integrated into the current apron events at so-called Smart Windows by means of augmented reality. You (almost) can't get any closer.
After this interactive tour of the tarmac, anyone who feels like taking on an important job at the airport themselves can try their hand at being a marshal at another station and direct an A320 neo to its parking position. Another area, where guests are not otherwise allowed, can be accessed in the visitor centre with the help of virtual reality. Simply take a seat on the moving chairs, put on the VR goggles and off you go on a wild roller coaster ride through the baggage handling system. It's great fun, and an original way to learn about work processes that are otherwise hidden from view.
The interactive LCD wall "The Globe" consisting of 28 screens is particularly impressive. With a worldwide unique system the complete flight events around the globe can be displayed in real time. You are at the airport to pick up loved ones and would like to know where their plane is at the moment or what distance the plane has covered on its route so far? Or you want to see what the air traffic looks like over New York right now? No problem, "The Globe" shows you exactly. At this station, you can truly embark on a very special trip around the world.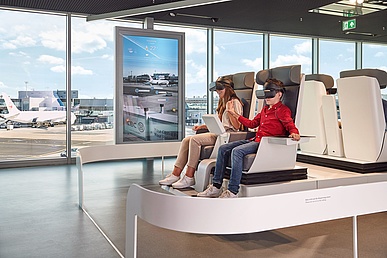 As there are also exciting stations for children to immerse themselves in the fascinating world of Frankfurt Airport, the Visitor Centre is a great destination for the whole family - ideally combined with one of the live hosted tours, which then take guests directly onto the taxiways and allow them to experience the information imparted at the Visitor Centre first hand.
Information for your visit at a glance:
Opening Hours Visitor Center: Mon - Sun 11am - 7pm, tours are only offered Fri - Sun outside of holidays
Tickets: Currently tickets are not available on site. These must be booked HERE online at specific time slots. (There is to be a box office from January)
Prices: €12, concessions €10, children under 4 admitted free
Corona Rules: Please check FRA-Tours.com for current Corona rules.
- Advertorial -