UPDATE: Leider the Goetheturm was completely burnt down in the early morning of October 12, 2017. But there are already plans to rebuild the tower. It is not yet certain when and how this will be the case. We will keep you up to date.
The 43.3 meter high wooden tower on the edge of the city forest in Sachsenhausen has always been a popular excursion destination for all Frankfurters. No wonder, because those who manage to climb the 196 steps of the tower have a wonderful view of the Frankfurt skyline and the city forest. The tower, built in 1931 and one of the largest observation towers in Germany, was closed to visitors for several years, as it was completely renovated from 2010 to 2014. But since its reopening, it has been open to the public every day from the beginning of April to the end of October.
Although the tower alone offers a good reason to come here, visitors are offered even more. The Goetheturm also has a small restaurant and a large playground. This covers a full 2.98 hectares and offers children many opportunities to let off steam. In summer, the paddling pool is a particularly popular highlight. Another special feature is the maze of green belt animals created in 2006. This makes a visit from the Goetheturm a special experience, especially for families.
And for your physical well-being there is the Gasthaus Schmidt-Peccolo at the Goetheturm, Goetheruh. Here you will find classic delicacies for the small appetite such as sausage salad, handmade cheese with farmer's bread or Frankfurt sausages with potato salad. But also main courses like Frankfurter Schnitzel with green sauce and jacket potatoes are on the menu. Those who like it sweet are in good hands for dessert. Here you will find delicacies such as Kaiserschmarren with apple sauce.
After climbing the tower and a subsequent meal in the restaurant, the Stadtwald still offers the perfect opportunity to take a relaxing walk. All good reasons to visit a real Frankfurt landmark again.
More information about the restaurant at: www.goetheruh.de
Where?: Sachsenhäuser Landwehrweg
Starting with Bus Lini 48, Stop Goetheturm
HERE to our big GOETHE Special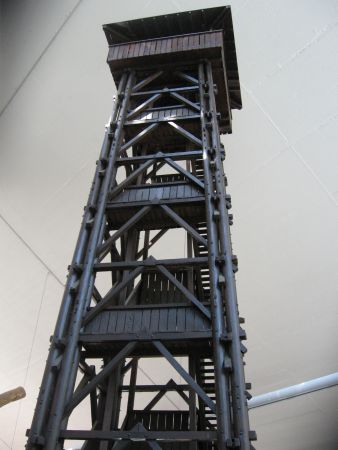 A model of the Goetheturm in the StadtWaldHaus