27 years ago, Jutta Wilkesmann and Hildegard Gansmüller opened a bookstore in Brückenstraße in Sachsenhausen, Germany, specializing primarily in detective stories. Miss Marple, Philip Marlowe or Hercule Poirot have their home here as well as rather unknown investigators and real detective tips. The experiment of opening the first crime book shop on the European continent in Frankfurt, of all places, has paid off. After only four years, the bookshop moved to a larger shop, but remained loyal to Brückenstraße, where the WENDELTREPPE still enjoys unbroken popularity today.
This is not only due to the literally exciting range of books that you can find here while browsing the bookshop and antiquarian bookshop. Rather, it is because you immediately feel the love and passion with which they work when you enter the shop. This becomes particularly clear when you seek advice. Then you notice that you are not only dealing with the usual salesmen or booksellers, but with real thriller lovers who simply want to share their passion with their customers. Therefore there are not only books to buy here, but also readings or the popular monthly event where interesting crime thriller new releases are presented over a good glass of wine. (Reservation absolutely necessary!)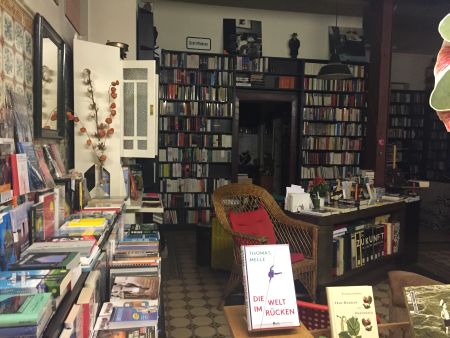 In times in which more and more small bookstores have to close because they cannot keep up with big chains or online retailers, it is almost a miracle that such a special bookstore as WENDELTREPPE has been able to survive for so many years. But it's not that surprising when you consider that the customer is offered something that online giants or many chains are looking for in vain: real expertise, a homely atmosphere and a great deal of love for the exciting pages of literature. Like its owners, this shop is a genuine Frankfurt original and therefore always worth a visit!
The spiral staircase can be found at Brückenstraße 34, 60594 Frankfurt am Main
or on the Internet at: http://www.die-wendeltreppe.de/
p style="text-align: center;">