- Advertorial -
About two years ago Jeanette Linkenbach opened a studio for painting events at Ginnheimer Landstraße 109a in Frankfurt. The concept, which Linkenbach got to know during a three-year stay in the USA, is as simple as it is ingenious: Under the guidance of local artists*, guests can create their own works of art in a relaxed and sociable atmosphere - true to the motto "Anyone can paint". These painting parties are not about shining with previous knowledge, but about living out creativity, having fun and being sociable.
Of course, for hen parties, birthdays or company events, the painting parties quickly became very popular in Frankfurt as well. But for Jeanette Linkenbach it was soon clear that the special icing on the cake was still missing. Because in addition to the possibility of painting pictures or ceramics under instruction, a local product should definitely be offered. The ideal candidate was quickly found: the Bembel! It is perfectly suited for creative design. In addition, the experience with ceramics and the available space made this step quickly feasible. And so the first Paint your Bembel Party was offered in the Atelier Painting Partys on 8 November 2019 - with resounding success.
Due to the increasing demand for further Paint your Bembel Parties, these quickly became a permanent fixture in the Atelier's range of products, until the Corona pandemic caused a long forced break here too. But fortunately that is now over. With a strict hygiene concept and by keeping the necessary distances, Paint your Bembel parties can take place again. But what can you expect at this creative event?
First you choose your Bembel from three different sizes (2er - 0,5l, 4er - 1l and 8er - 2,0l). The handmade blanks, which are produced in the Kannenbäckerland in the Westerwald, can then be individually painted with your favourite pattern or motif. Of course you will get professional help with the realisation of your idea - so don't worry if you fear that your artistic talent is not enough to create a wonderful Bembel. With the necessary know-how and materials you will be supported in the 2.5 - 3 hour creative course so that your idea will land on the Bembel according to your own ideas - no matter whether you decide on the classic flower pattern, the Frankfurt skyline or your very own motif. One thing is clear - each Bembel is a real unicum.
The Paint your Bembel parties take place in groups of 4 to a maximum of 20 people. For larger groups there are always two artists available for you. A refreshing glass of cider, water and snacks are included in every public party. And so that you can also relax and enjoy your creativity, the sociability of the group and the pleasant atmosphere in the studio, a strict hygiene concept is followed at every event, but this in no way gets in the way of fun.</The pebbles that you paint will be glazed and fired in a special kiln that is heated to over 1000 x ampersand x deg;C. After 4 to 5 days you can pick up your finished Bembel artwork. Then you have a real eye-catcher in your four walls or you have created a really original birthday or Christmas present for your loved ones.</p>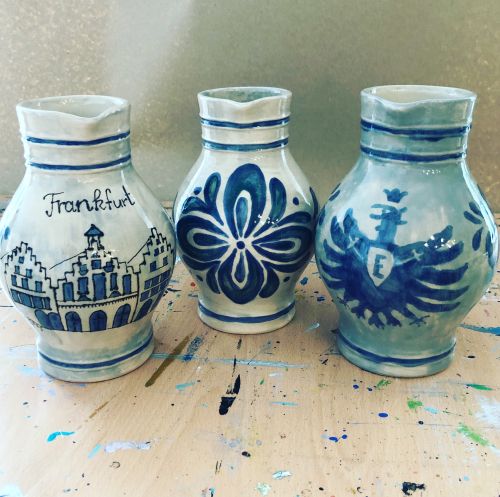 For those who want to be creative at home, there is also a "Bembel to go" variant. You simply pick up the Bembel blank, brushes and whatever else you need - helpful tips included - and then paint at home in a relaxed manner. A really nice idea for birthday parties, a JGA or other special occasions.
All further information about the great concept, booking and dates can be found at https://paint-your-bembel.de/
address Ginnheimer Landstr. 109a, 60431 Frankfurt/M