When the Science Center opened ExperiMINTa in March 2011, it was an ambitious but also risky undertaking. Even though the idea of the non-profit association founded in 2008 to make the so-called MINT subjects (mathematics, natural sciences, computer science and technology) accessible to children and adults in a playful way sounds good on paper, it was not foreseeable how the Museum of Participation would be received by the citizens. After six years, a clear conclusion can be drawn: ExperiMINTa is a complete success and a real enrichment for Frankfurt!
In recent years, an average of 85,000 visitors have come to the museum to immerse themselves in the nine different themes of movement, strength, energy and the environment at around 130 interactive test stations. Whether in the walk-in eye, on the devil's wheel, at the puzzle tables or with the giant soapsuit skin - everywhere the connections between cause and effect can be explored in an entertaining and interesting way. What sounds rather abstract in textbooks becomes tangible and directly perceptible here. That's why we consciously say "touch desired" and not "touch forbidden"!
Naturally, the interactive museum is a very special experience, especially for children and school classes, and also a nice way to bring learning to a playful, yet effective level. But a visit to the ExperiMINTa Science Center is also absolutely worthwhile for accompanying adults and interested people of all ages. After a tour of the various stations of the house, you can relax in the cafeteria on the first floor. There is even a picnic area for groups. And for those who are more interested in scientific and mathematical topics after their experiences at the experimental stations, there is the in-house shop with a large selection of suitable books. So come and see for yourself and see for yourself how much fun the MINT subjects can be.
Wo? Hamburger Allee 22-24, 60486 Frankfurt am Main
Opening Hours: Mo 9 - 14 Uhr, Tu-Fr 9 - 18 Uhr, Sa/Su/Feiertage 10 - 18 Uhr
You can also find more information under: http://www.experiminta.de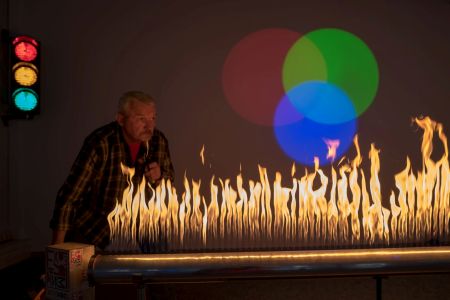 Photos: ExperiMINTa