Frank Sinatra, The Doors, Elton John, Louis Armstrong, Santana, the Bee Gees, Kraftwerk, a-ha, Sting, Woody Allen - it's hard to believe which greats of rock and pop history have already stood on stage in the multi-purpose hall in the Höchst district. This was probably not even imagined when the building with its distinctive domed roof was designed by the well-known architect Prof. Dr. Friedrich Wilhelm Kraemer on the occasion of the 100th anniversary of Höchst AG and opened in 1963. Along with the Festhalle and the Alte Oper, the Jahrhunderthalle has long been one of the largest and most important concert halls in Frankfurt and the entire Rhine-Main region.
Truly, the Jahrhunderthalle is not only used for large concerts, musicals and shows. Flea markets like the beautiful Nachtflohmarkt, fairs like the Schallplatten- und CD-Börse or the Edelsteinbörse, as well as fairs like the wine fair of the Höchster Weinkontor or House of Dogs - Die Messe für Lifestyle mit Hund take place here. And in summer, the entire area around the hall has been transformed into a large food truck festival once a month since 2015.
For some time now, anyone who wants to give their concert or show visit a very special touch has had the opportunity to buy a premium ticket. This allows them to use the Canton Lounge before the event and during the interval. This VIP area in 60s style offers fine-dining catering, drinks, a separate toilet area and a cloakroom in the lounge area. In addition, the premium ticket also includes a parking space in the VIP parking area. This premium upgrade is available for select events.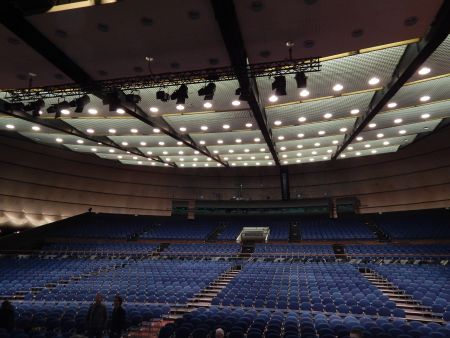 For those arriving by car, it should also be said that there is a parking fee (5 €) for the use of the parking lot, which must be paid immediately upon entry. If you want to save this fee, you will have to use public transport.
For over 50 years, the Jahrhunderthalle has regularly offered a first-class and varied programme, from Schlager and musicals to cabaret, ballet and rock.
Address: Pfaffenwiese 301, 65929 Frankfurt am Main
You can also find more info at: <link http: www.jahrhunderthalle.de _blank>