If there is a place in Frankfurt that deserves the term institution, it is the Tiger Palace. Because not only that its founders Johnny Klinke, Margareta Dillinger and Matthias Beltz, who died far too early in 2002, brought the tradition of Varieté theatre back to Frankfurt in 1988 with the Tigerpalast, which had actually disappeared from the cityscape. With their concept, they have also virtually given the go-ahead for a renaissance of the metropolitan variety arts. For over 25 years, the Tigerpalast has held a clear top position in this respect. This has not only been achieved through the constant commitment of internationally renowned artists. Also the mixture of first-class Varieté art and top gastronomy worked out with co-founder Robert Mangold makes the Tigerpalast so special. Nothing has changed in this respect since 2-star chef Christoph Rainer took over the management of the restaurant in the Tigerpalast from Mangold.
Since the grand opening of the Tigerpalast, Margareta Dillinger has repeatedly succeeded in attracting world-class artists to Frankfurt. Thus also still another characteristic of the Tigerpalast becomes clear. The artists are given the unique opportunity to live with their families in specially furnished artist apartments directly in the house during their several-month engagement. Thus the Tigerpalast becomes not only a workplace, but also a piece of home, the entire team becomes a kind of extended family. This is also a reason why the Tigerpalast enjoys a very special, very positive reputation in the industry and thus succeeds again and again in winning outstanding talents for the revues.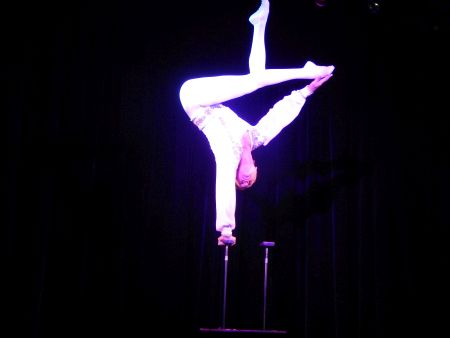 This high level not only determines what happens on stage, but also what the guests are served here on the plates. High quality for eye and palate attracts naturally also an appropriate public, why in the over 25 years, which there is the Tigerpalast now already, already some prominent guests from politics and Showbusiness could be found. But of course the Tigerpalast is not only something for the Haute Volée, but for all Frankfurters and guests of our beautiful city who love Varieté of the extra class. It's a real Frankfurt tip.
Address: Heiligkreuzgasse 16-20, 60313 Frankfurt am Main
Infos and tickets under: http://www.tigerpalast.de/