Hip Hip Hurray - The visitor service at Frankfurt Airport celebrates its 70th anniversary! Whether visitor tours, visitor center or visitor terrace - from 01 to 30 October 2022's at all three Visitor facilities great highlights for young and old.
Be there on one of the exclusive anniversary tours with insights into the beginnings of Frankfurt Airport. Then discover an exciting journey through time in the visitor center from the past to the future of the world of flying. At the end of the day, it's also worth taking a look at the visitors' terrace: here, more activities and, of course, a fascinating view of what's happening on the apron await you.
Tickets and further information are available at www.FRA-Tours.com.
Guests of the Visitor Center will also receive 1 hour free parking in the P2 and P3 parking garages.

Visitor Center
In the interactive Fraport Visitor Center await you vom 01. - 30.Oktober exciting stations to participate and fascinating views into otherwise invisible airport worlds. Experience a special time travel into the past as well as the future of flying.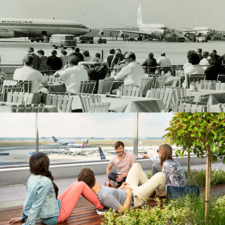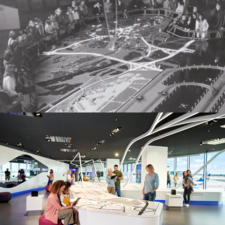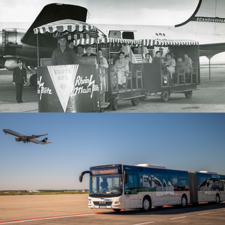 Anniversary Tour (60min)
On the exclusive 70th anniversary apron tour. Anniversary awaits you an exciting insight into times gone by. During the 60-minute tour, the guides will tell you about the creation of Frankfurt Airport in 1934 to the expansion of the new Terminal 3.
Take a look behind the scenes of Germany's largest airport during the live moderated airport tour and get additional exciting information about an aircraft handling. The tour guides are looking forward to lots of questions.
Combitour
Experience the most popular visitor attractions of Frankfurt Airport now for the first time in combination: simply board the 60-minute anniversary tour followed by a visit to the multimedia visitor center. Look forward to an exciting, fascinating and entertaining visit!