On Saturday alone, more than 40,000 fans of Korean pop music celebrated in Deutsche Bank Park Frankfurt at KPOP.FLEX, Europe's largest K-pop festival. A total of more than 70,000 tickets were sold to 84 countries for the two-day event. It was a huge success for the premiere of this new festival, which was accompanied by a large Korean cultural festival directly in front of the stadium. Here, fans were able to get into the right mood while waiting for admission, before they then really brought the Eintracht living room to the boil.
The organizers were thrilled by the great response to the festival. Initially planned as a one-day event only, KPOP.FLEX was extended for a second day due to the run on tickets. And now the good news. The festival will once again take place in Frankfurt in 2023 and will once again attract fans in droves to Frankfurt with numerous K-Pop idols on Saturday, June 17 and Sunday, June 18, 2023. While this year K-Pop greats such as NCT Dream or Monsta X thrilled the mainly female fans, the lineup for next year is not yet fixed - but the first bands are to be announced soon. What is already clear, however, is that the second KPOP.FLEX will once again feature a fan festival on the grounds of Deutsche Bank Park, offering fans the chance to take part in activities, sample delicious food and experience the delights of Korean culture. This concept more than proved its worth last weekend.
The success of K-Pop may not be obvious to everyone. But how passionate the fans are in their love for the music and their idols, that became clear on the weekend even if you are not part of the target audience. The atmosphere in front of and inside the stadium was great, colorful and cheerful. Everywhere there were colorful costumes and happy faces to see. It seemed like a big community that had come together to celebrate their idols and have a good time. Whoever experienced this, it will also be clear: An end to the K-wave is far from in sight.
For Patrik Meyer, Managing Director of Deutsche Bank Park, a new edition of the festival next year was a matter of course: "Due to the great demand for our first edition of KPOP.FLEX, we are looking forward to bringing the festival to Germany for two more dates in 2023." And Peter Kötting, managing director of PK-Events, adds, "K-Pop is a music phenomenon that enjoys great popularity. Fans want to experience their idols live and that's what we offer them with KPOP.FLEX. That's why we're looking forward to continuing this new format next year."
The goal: to return to Frankfurt in 2023 and offer an even bigger party for fans from all over the world. And that's quite a challenge after the enormous success of the premiere! Advance sales for KPOP.FLEX 2023 in Frankfurt have already begun, weekend tickets cost:360 euros (early admission), 295 euros (area in front of the stage), 230 euros (indoor area), 205 euros (lower stands), 140 euros (upper stands).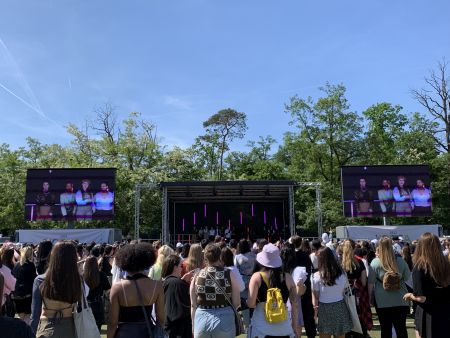 The event is organized by K-Pop Europe in collaboration with PK Events and Korean broadcaster SBS Television Network. K-Pop Europe is a partnership between Live Company Group and Explorado Group.
More info is available at: https://kpopflex.com/