A few months ago there were long faces at Messe Frankfurt and among representatives of the city when it became clear that the IAA would no longer be held in Frankfurt. But now the fair has pulled off a real coup: Messe Frankfurt and Premium Group are bringing Fashion Week to Frankfurt. This will make the Main metropolis the new hotspot of the international fashion and lifestyle scene from summer 2021. At a joint press conference, Detlef Braun, Member of the Board of Management of Messe Frankfurt, Lord Mayor Peter Feldmann and Tarek Al-Wazir, Hesse Minister for Economic Affairs, Energy, Transport and Housing and Deputy Prime Minister of the State of Hesse, expressed their enthusiasm for this coup that Messe Frankfurt has landed with Fashion Week.
Braun promises that different formats will be established within the framework of the fair, which will also be taken out into the entire city. Frankfurt has great potential to break new ground for Fashion Week, Braun said, with tradeshows, conferences, runways and events based on the twin pillars of digitalisation and sustainability. Anita Tillmann, Managing Director Premium Group, adds that Frankfurt is still quite uncharted territory for the industry, but that is precisely why it is the perfect place for a new start. The fact that the exhibition grounds are located directly in the city and are thus a direct part of Frankfurt means that the entire Fashion Week can be redesigned and repositioned here. The Fashion Week format needs to be completely rethought anyway, says Tillmann. One wants to surprise and make fashion an experience - and for that one needs the integration of the fair into the whole city.
"This will make the economic metropolis Frankfurt the new hotspot of the fashion and lifestyle scene and the new international fashion metropolis. The realization of a Frankfurt Fashion Week offers a unique and international economic opportunity for the city of Frankfurt. We reckon with a diversionary profitability of more than 200 million euros per year for our home city and the region", Feldmann emphasised. The hotel industry, gastronomy and transport would be massively boosted as a result, which will really do the whole city good after the Corona crisis. "Frankfurt has always been a style leader for art, architecture, design and known for its unique club, bar and restaurant scene. Thanks to the new Frankfurt Fashion Week, our appeal as an international fashion location is now also increasing. We will carry the theme of fashion and design into the city and complement it with our own exciting events. I am proud that we have been able to lure these three prominent trade fairs with, after all, over 2,000 designers from Berlin to Frankfurt," Feldmann concluded.
Mayor and City Treasurer Uwe Becker added: "Together with the State of Hesse and Messe Frankfurt, we as the City of Frankfurt want Frankfurt Fashion Week to take off successfully and make Frankfurt the German fashion centre. We will make our contribution to this." And Head of Economic Affairs Markus Frank promises: "We have big plans. The Zeil will become the longest catwalk and the Eiserne Steg will also become a catwalk. Fashion Week will be a really big party."
For whether in skyscrapers, trade fair and concert halls, bars, clubs or off-locations - the whole city will become a stage, an inspiration area and a space for sustainable business connections. Fashion, design, media, art and music - the runways and events of Frankfurt Fashion Week bring together Frankfurt's creative scene with the international fashion community. Progressively curated and staged, closely intertwined with local and international players.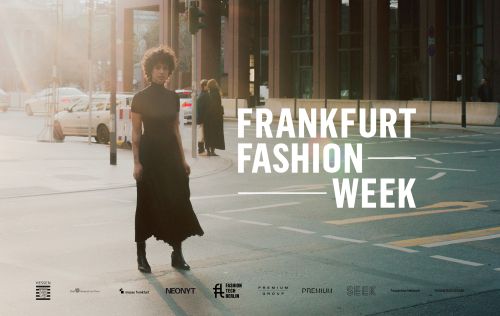 BANKING CAPITALS AND FASHION METROPOLIS
Europe's biggest fashion fairs are at the heart of Frankfurt Fashion Week: PREMIUM, Europe's most relevant business platform for Advanced Women's and Menswear, SEEK, one of the most progressive tradeshows for Contemporary Fashion, and NEONYT, the leading hub for Sustainable Fashion. Together with the FashionSustain and FashionTech conferences, they will move from Berlin to Frankfurt am Main.
"Five platforms, three trade fairs, two conferences, over 2,000 designers, brands and fashion companies - Frankfurt Fashion Week is becoming a highly attractive and relevant location for the international fashion business. We believe in the concept of a physical Fashion Week. But in a different way than it has been known so far. Frankfurt Fashion Week enables us to fully exploit our textile expertise with over 50 textile trade fairs worldwide. There will be new synergies along the entire value chain," says Detlef Braun, Member of the Board of Management of Messe Frankfurt.
It will be interesting to see what Frankfurt Fashion Week will look like and whether it will really turn Frankfurt into the new fashion metropolis!
For more information, visit: www.frankfurt.fashion