There should actually be two major film festivals in Frankfurt in the next few weeks: The LICHTER Filmfest and the NIPPON CONNECTION: Both festivals were unfortunately cancelled in the classic form - but will still take place. This is because the organisers have decided to hold their festivals digitally. This may not be a substitute for the real experience of attending a festival, but it is a welcome alternative in times of the Corona crisis - and a good way to support the two festivals so that they will continue to exist in the future.
The 13th LICHTER Filmfest Frankfurt International
The thirteenth edition of the LICHTER Filmfest will launch in an on-demand version. To bring the culture to where we all spend most of our time right now: Inside our own four walls. Films and discussion formats can be seen as "LICHTER-On-Demand" during the planned festival period from April 21 to 26. The second edition of the "Future of German Film" congress, on the other hand, has been postponed and is now scheduled for autumn 2020 at the earliest. The makers of the festival have also found a new date for the exhibition of the 10th LICHTER Art Award at the exhibition platform basis e.V. towards the end of the year.
As a postponement of the festival was not possible, a cancellation was never an option for festival directors Gregor Maria Schubert and Johanna Süß: "This crisis is hitting our entire society on an unimagined scale. We are very grateful that our main sponsors are standing by us in these difficult times and keeping their financial promises for the festival. In contrast, our festival cinemas are directly threatened in their existence by their closures. So our alternative program is not only to enliven our time in self-isolation with film culture, but also to support the cinemas and the filmmakers."
As an online festival, LICHTER will now make films from the original program available on a streaming platform from April 21-26, 2020. For a rental fee of €8.00, the films will be available as video-on-demand over the six-day festival period. "We split the revenue between the festival, distributors and our festival venues," says Schubert.
LICHTER-Bembel will still be awarded
Among other things, viewers* can look forward to Alexander Kluge's new film "Orphea", which celebrated its world premiere at the Berlinale this year. "Kluge explicitly supports our plan to stream the film," says Süß. In addition to a selection of films from the various sections, the regional short film competition will also be available to watch online. The audience will award a prize to the best short film. LICHTER-On-Demand is not meant to be a simple alternative to the usual streaming offers. Interviews with filmmakers and panel discussions on the annual theme "Power" will be recorded as podcasts and video conferences, bringing festival feeling into the digital space.
The regional feature film prize of the Dr. Marschner Foundation, endowed with 3,000 euros, and the short film prize, endowed with 1,000 euros, will also continue to be awarded. Two expert juries will deliberate on this year's prize winners via video conference.
Thumbnail Challenge
For the creative pastime, the LICHTER audience is also called upon to compete until the online festival begins on April 21. The flipbook challenge involves picking up a pen, telling your own little story and sending it to info@lichter-filmfest.de. The best flipbooks will be published via the festival's social networks. There is a festival pass for LICHTER 2021 to be won.
You can find all further info HERE
The 20. Nippon Connection Film Festival online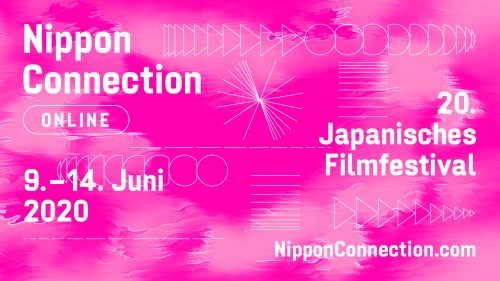 The twentieth edition of the popular Japanese Film Festival will also take place from 9. June 14, 2020, to be held digitally only. Since there is no telling when things will normalize internationally, it has been decided not to hold the Nippon Connection in its usual form. Because again, the safety of festival-goers, guests as well as staff and volunteers of the Nippon Connection film festival has top priority.
Festival director Marion Klomfass said: "To cancel the festival was not an option for us. Therefore, after an intensive exchange with our sponsors and cooperation partners, we have decided to let the 20th anniversary of Nippon Connection take place as an online edition from June 9 to 14, 2020. We want to make the best of the difficult situation and look forward to new challenges."
Nippon Connection Online
What exactly can be offered online is something the entire festival team is currently working on at full speed. A whole new concept tailored to the internet has to be worked out. This will then present a diverse selection of current Japanese short and feature-length films under the title Nippon Connection Online, accompanied by additional interactive offers such as moderated livestreams and discussion rounds with filmmakers.
Florian Höhr, Head of Film Programme, explains: "Despite the current crisis situation, it is a great concern of Nippon Connection to give Japanese cinema and its filmmakers a public platform in this country. Running it as an online festival continues to give us the opportunity to offer our audience a diverse insight into the current Japanese cinema landscape."
While new boundaries are drawn daily by going viral, Nippon Connection Online allows existing relationships with Japan to be nurtured and new additions to be gained as well. Visitors* to the festival can bring a piece of Japan home through a digital social program of online workshops, lectures, performances and concerts, as well as a virtual market.
Marie-Claire Richardson, Head of Nippon Culture, promises, "We want to continue our diverse cultural events programme, which has been part of the festival since its first edition, online and offer artists* the opportunity to showcase themselves and their work. Especially at this time, it's important to promote cultural exchange."
More details about the Nippon Connection Online program will be announced in the coming weeks. More info will also be available HERE