Anyone who has visited the MyZeil shopping center in recent weeks will have noticed that work is going on vigorously on some new features. The current work concerns the escalators leading to the first and second floors. Connected to this is the redesign of the entrance area, which will be transformed into an inviting atrium in 2017. But this is only the beginning of a new orientation of the center, which is to be aimed more at a somewhat older target group than before. Of course, MyZeil will continue to be attractive to all visitors, but it is intended to appeal particularly to the 30 - 49 age group. This is not only reflected in some new shops that are to move in over the next few months. On the fourth floor in particular, the realignment is to make itself felt through a complete redesign of the food area.
So this part of MyZeil will be transformed into "Foodtopia" by probably the end of 2018. The idea is to create a place where people can not only grab a quick snack while shopping, but also a place where they like to meet up with friends or family for a relaxed meal or to enjoy the great view over a celebration drink. From the first coffee in the morning to the cocktail in the evening, visitors should be offered something here. The concept not only includes new gastronomy, but also a complete redesign of the floor. Lots of greenery is to be combined with the modern glass architecture of the building to create a very special, warm atmosphere. Jonathan Doghty, Head of EMEA Foodservice Consulting, said at the presentation of the concept that it was about filling the already existing strengths - the architecture and the great view of the skyline - with character, warmth and heart. The guests should feel comfortable here, they should get high-quality food as well as an appealing ambience. And if the implementation will be more or less according to the plans, then this project can be considered absolutely successful.
roof terraces with skyline views and a mix of international and local restaurant and bar providers should make "Foodtopia" a hotspot for all foodies in Frankfurt. In addition, it is highly likely that a premium cinema with three to five screens will also be built in this area. Cinema-goers will then be able to meet before the film for a meal together or afterwards to review what they have just seen over a drink. In addition, events such as cooking shows or live music will be held in the food area on a regular basis, so that this area of MyZeil will be filled with vibrant life. A relaxing marketplace atmosphere is what is to be created here.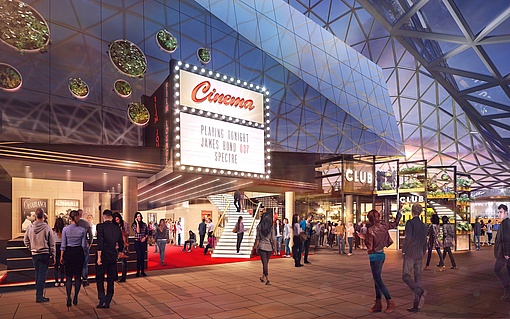 There are truly big plans the ECE team has in mind for the next two years. But the up to 50,000 people who already visit MyZeil day after day should feel even more comfortable here in the future and want to stay longer. This is good for the shops located here, but also for the gastronomy and the other tenants, such as Fitness First, which will also benefit from the redesign with a beautiful terrace. The first new feature will be seen in time for the start of the Christmas shopping season on Nov. 21, when the new escalators go into operation. And what follows after that is definitely a very exciting change that we will of course continue to follow