In the USA, ComicCon has long been a cult event. What started in the 1970s with just under 300 visitors now attracts well over 100,000 fans. San Diego ComicCon is probably the biggest and most successful event of its kind, but it now also has offshoots in many other cities such as New York. The ComicCon hype has now spilled over the pond and reached Germany for the first time in winter 2015. After the great success in Dortmund and Berlin, the German ComicCon is now coming to Frankfurt in April. We were at the con in Dortmund in December and can already give you a little taste of what to expect at the ComicCon in Frankfurt.
Originally, the ComicCon was a pure comic book fair. Little of that remains in its current form. Nevertheless, there are of course still numerous comic book suppliers offering novelties or rarities at the fair. But also various merchandise products, posters, books, Blu-rays and DVDs are offered here. In addition, numerous artists from the comic and manga genres will be presenting their work, there will be cosplay competitions and many interesting lectures. But that is admittedly only one part of ComicCon.
The big attraction are of course the star guests. Of course, the German offshoot is not yet on the same level as the original. But it's not always the big names that guarantee great entertainment. In the panels, it's often the supporting actors who talk out of the closet with a lot of humour and honesty, sometimes revealing very surprising details about their favourite series or films. One highlight in Dortmund, for example, was Daniel Portman, known as Podrick from "Game of Thrones". His panel was extremely casual, humorous, charming but also very interesting. Very good entertainment. It is definitely worthwhile to visit all the panels, because here you can really experience very positive surprises and is usually also very well entertained. Besides the popular interview panels, there is of course also the possibility to get an autograph of your favorite star or take a picture with him/her.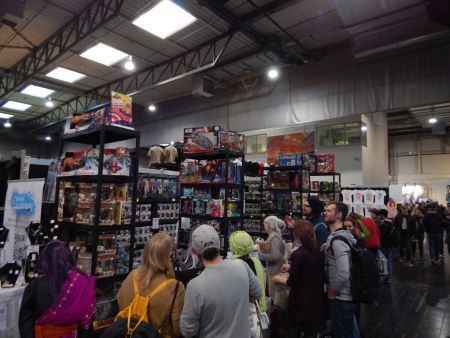 Now there are actually people, like the editor of a major German daily newspaper, who get upset about how expensive the photo shoots and autographs are at an event like ComicCon. In principle, that may be true. But there are two things to consider here: for one thing, the stars don't come for free. And the only way to pay for the guests is to pay a really moderate admission fee for an event like this. On the other hand, the prices for autographs and photos are listed on the German ComicCon homepage well in advance, so they don't come as a nasty surprise to fans. Even if you can often only spend seconds with your star, especially at the photo shoots, they are a memory worth every penny for those fans who are willing to spend 50 <x>ampersand</x>euro; or more for a picture anyway. The author of these lines knows what he is talking about.
What is a pity, however - but unfortunately the organizers have little influence on this - is the fact that already booked star guests not infrequently then cancel, whether due to short-term filming commitments or for other reasons. For example, Mads Mikkelsen or Billy De Williams were announced for Dortmund, and not only "Hannibal" and "Star Wars" fans were looking forward to them. And unfortunately, it has to be assumed that not all of the announced stars will actually come to Frankfurt. Despite all the anticipation, you should be prepared for that. Nevertheless, it's definitely worth a visit! Why? Because here fans are among themselves. No one will be looked at strangely here, no matter what outfit you wear. Here, fans are among themselves and that makes for an extremely relaxed, happy atmosphere. It's also absolutely fascinating to see how much effort, heart and soul and talent some visitors put into their costumes or make-up.
The German ComicCon is an absolute must for fans of comics, manga, superheroes, TV series and cult films. You can expect two days of fun - even if it's crowded, you have to stand in line for photos and autographs and you might not always get the best seats at the panels. Here you can meet a lot of nice like-minded people, exchange ideas and meet some well-dressed stars of the past and present.
We will of course continue to keep you updated on German ComicCon in Frankfurt - before, during and after the event!
When? 22nd + 23.04.2017
Where? Messe Frankfurt
More info at:
www.germancomiccon.com/de/frankfurt/