Already in its 56th year, the "LeseEule" is a guest in Frankfurt. Until 27 November, the popular children's and young people's book exhibition attracts young and old to the Römerhallen. As every year, there will be a main theme in 2016. This time the focus is on "skyscraper, hut, hamster den". Building as an expression of social thought will be conveyed in particular by means of around 100 books on this topic. The aim is to show children in particular how people build and live not only in Frankfurt, but all over the world.
In total, around 800 children's and young people's books are on display in 2016. The selection ranges from picture books for the very young to works for teenagers aged 13 and up. Anyone who still doesn't know what Santa should bring this year is guaranteed to find the right idea here. Fortunately, the books are not only on display, they can and should also be looked at and read. To this end, the initiators of the "LeseEule" have once again created a very cosy atmosphere in which children, but also parents, can browse at their leisure. Of course, there are also some books in foreign languages, comics and the winners of the German Youth Literature Award 2016 to see. And there is also a little birthday greeting to Helme Heine, the "father" of the friends from Mullewapp.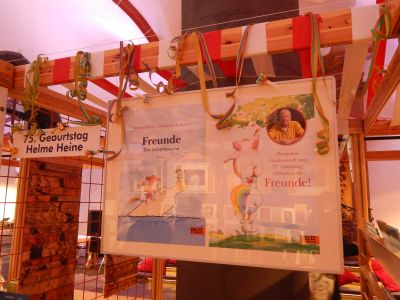 At a time when electronic media - whether movies, video games or apps - are taking up more and more space in children's lives, reading remains as important as ever. According to Prof. Dr. Daniela Birkenfeld, head of the youth department, in her opening speech, reading allows the imagination to unfold freely, which is why books are so incredibly important for education and the development of children's creativity. Even the best app or the most expensive movie can't replace that.
With the help of numerous supporters such as the S. Fischer publishing houses, bookshops such as the Tatzelwurm and the Eselsohr, the MyZeil Shopping Center, the Schauspiel Frankfurt, the Zoo or the Deutsches Architekturmuseum - to name but a few - the "LeseEule" also wants to contribute in its 56th year - and if possible in many more years to come - to instilling a love of reading in children and young people. That's what not only the exhibition but also the great supporting programme, which includes workshops, guided tours, theatre and much more, aims to achieve.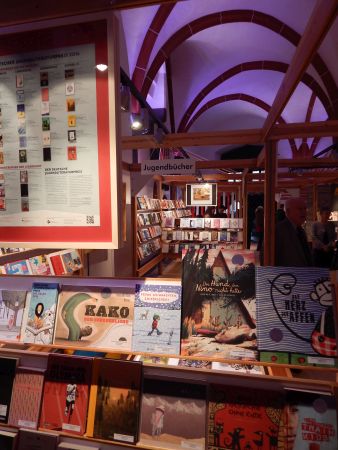 Admission to the exhibition is free, and the Roman Halls are open from 9 a.m. to 6 p.m. Monday through Friday and from 10 a.m. to 6 p.m. on Saturdays and Sundays. Groups are asked to register in advance for organizational reasons. And also the participation in the individual offers of the supporting programme is usually only possible after pre-registration. All information can be found at www.kinderkultur-frankfurt.de