Real American Football - Real American BBQ: Char-Broil and Samsung Frankfurt Universe invite you to the big Super Bowl Party
This is going to be a mega party: when the two best US football teams meet on the night of Sunday, 5. February to Monday, February 6, 2017, in Houston/Texas in the Super Bowl meet, football fans from the Rhine-Main area can be live again. Because the most popular gas grill brand in the USA, Char-Broil, and the "Men in Purple" invite to the big "Super Bowl Party" in the Louisiana Sportsbar, Eschenheimer-Anlage 40, 60318 Frankfurt. On four screens and three flat screen TVs, the game can be followed with German sound.
An unforgettable night:
The Samsung Frankfurt Universe cheerleaders will provide an authentic stadium atmosphere, heating up the approximately 200 expected guests. But that's not all: the upcoming barbecue season will also be "hot", because Char-Broil stands for simply sensational results on the grill like no other brand. Best of all - there will be an innovative Char-Broil Gas2Coal grill worth 450 euros to be won on site. The winner will be chosen during the game and can take his grill home directly after the final whistle. The physical well-being of all party guests will of course be catered for. Under the Char-Broil motto "Real American BBQ", an event menu has been created with barbecue specials such as the Frankfurt Universe Burger that will leave no BBQ wishes unfulfilled. In the morning hours there will also be a coffee flat rate, so that even the last raid of tiredness has no chance. Perfect conditions for a sensational football evening. Admission is at 10:30 p.m.
"We are pleased to be able to organize a "Super Bowl Party" again this year together with Char-Broil. With the Louisiana Sportsbar in the center of Frankfurt we have found the perfect location. I think that nothing will stand in the way of a successful football party", says Marco Schwarzer, organiser of the Samsung Frankfurt Universe event. If you don't want to wait until February 05, you can also watch the upcoming playoff games already at Louisiana Sportsbar, they will also be broadcast here.
Raffle:
And now comes the best: You can enjoy this Super Bowl Party exclusively in the Char-Broil VIP Lounge, because we raffle
with the kind support of
<link http: www.charbroil.com _blank>America's Gas Grill Brand no. 1, Char-Broil
and
<link http: www.frankfurt-universe.de _blank>Samsung Frankfurt Universe
2 VIP tickets to the party
In the VIP lounge, "Free Drinks" and the free and unlimited selection of food from the promotional menu (up to 250 euros per person) await the winners.
To get into the lottery pot, you just have to write us an email with the subject SUPER BOWL PARTY to <link>gewinnspiel-ffmtipp@trifels.de until 30.01.2017 at 15 o'clock, in which you tell us why you can not miss at this Super Bowl Party!
The winners will be notified by us by mail. The legal process is of course excluded.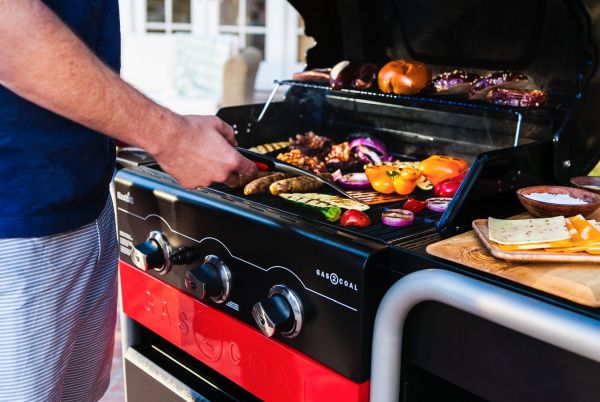 Only Char-Broil can do
For over 60 years, Char-Broil has stood for innovation, fantastic product design and superior performance - for maximum BBQ enjoyment and simply perfect results. All Char-Broil grills feature the patented TRU-Infrared&trade;cooking system. Unlike conventional gas grills that use convection heat (hot air) to cook food, Char-Broil's TRU-Infrared&trade;-grills reduce the amount of hot air that comes in contact with food, preserving the grill's moisture barrier and locking in the meat's own juices. The system prevents spurting flames, produces very even heat across the entire grill surface - at temperatures ranging from long-term sear (100 <x>amp</x>deg;C) to sear (400 <x>amp</x>deg;C) - and uses about one-third less gas than conventional gas grills.
For more info: <link http: www.charbroil.de _blank>
<link http: www.louisiana.de outlet frankfurt _blank>Directions Louisiana Sportsbar
The Louisiana, Eschenheimer-Anlage 40, 60318 Frankfurt, is very easy to reach by public transport. The sports bar is located in the former Volksbildungsheim directly at the Eschenheimer Turm only about 150 meters from Hauptwache and Zeil. The bus stop "Eschenheimer Tor" U1, U2, U3 or the bus lines N1, N2 and 36 are directly in front of the building. In the nearby car parks "Schillerpassage", "Börse" and "Turmcenter" your own car can be parked only a few minutes walk away