ARTime gallery
painting. Modern. Big. Affordable.
Who does not know this: The apartment has been renovated, new offices have been moved into or a new home has been built. Everything is ready, only the walls are empty and the desire for change has not yet been completely fulfilled. The ARTime gallery in downtown Frankfurt can help. The constantly changing offer in the gallery is characterized by its great variety, which is presented on site with a high level of professional competence. Those interested will find professional, contemporary modern painting in figurative or abstract style - and all this at affordable prices. As a result, the ARTime gallery has developed into a real secret tip that attracts customers to Neue Kräme far beyond the borders of Frankfurt.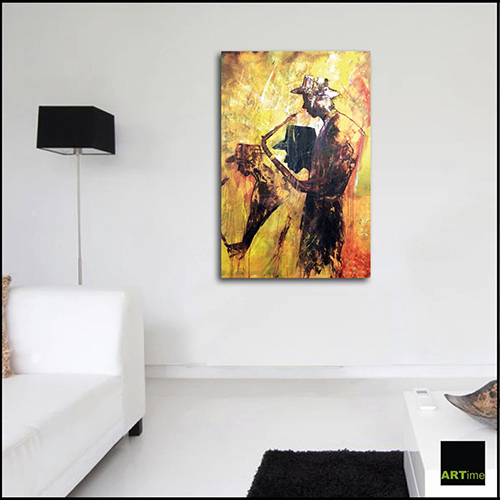 Six years ago, the gallery concept, which was clearly detached from the usual art market, was launched. Following the philosophy that art, design and interior design interact and form synergies in the living and working world, the ARTime gallery has specialised in particular in medium and large format works. And the unique thing is: Every picture is unique! </Over time, a larger group of national and international artists has been established, to which new artists are constantly being added. They are almost exclusively trained artists who are still little known in the market. They work in their studios all over Germany and the gallery owner visits them regularly to acquire new works from them, which are then offered in the <strong>ARTime gallery.
Even if well-known names are omitted here, this does not apply to the quality of the works. The ARTime gallery offers great art without having to spend a fortune. Because sophisticated art does not have to be expensive. So that art lovers who would otherwise perhaps not dare to enter a gallery can see this, the door in the Sandhofpassage is really open to everyone.



This provides an attractive platform for the artists to present their work and if one of the impressive paintings is bought here, this not only supports the gallery but also promotes young artists. </So if you want to enrich your living or working environment with a unique work of art, you should definitely visit the <strong>ARTime gallery. And for those who find the way there too far, the pictures can also be viewed, selected and ordered via the website.
address: ART>/strong>ime Galerie, Sandhofpassage, Neue Kräme 29, 60311 Frankfurt
opening hours: Tuesday - Saturday 11:00 - 18:00, Monday closed
Tel. 069-21998522 │kontakt@artimegalerie.de
More info at: www.artimegalerie.de