Where once the passing ships on the Main were recorded and counted, today lies a beautiful place for relaxation, conviviality and enjoyment: The Schiffsmeldestelle Höchst, SMS for short. The operators Frank Wellert and his wife Lizza secured this beautiful place a few years ago to bring a piece of Côte d`Azur to Frankfurt here. From April to October, the mixture of beach bar and beer garden invites visitors to simply unwind, enjoy the sun on deck chairs or have a cool drink with friends. And when the square is lit up by torches and candles in the evening, the old ship reporting point is definitely one of the most romantic places in town.
Drinks range from beer and cider to soft drinks, wine and prosecco, long drinks and coffee. In addition, small snacks such as pretzels, bung cheese, hot bockwurst or pepper bites are also on offer. Somewhat richer fare is offered by the food trucks, which make regular guest appearances here from 5 p.m. onwards to treat guests to their delicacies. <link http: www.schiffsmeldestelle.de drinks-snacks foodtrucks-an-der-sms _blank>Which food trucks can be found when at the SMS, you can find out HERE
The ship reporting point is divided into several areas: There is the main area with the bar and numerous beer benches. Adjacent to this is the spacious sunbathing lawn. In addition, there are two further demarcated areas that can be booked for private parties. For a trip along the banks of the Main at the weekend, the SMS is the perfect destination. But even during the week, when the weather is nice, this place is the ideal way to wind down after work with a tasty drink and delicious street food fare - whether with a good book or a few dear friends. Or you can simply enjoy the view of the Schwanheimer Mainufer opposite, watch the passing boats and ships and enjoy this very special atmosphere that has been created here. Really just beautiful!
When? From April to October daily 11 am - midnight, Fri/Sat until 1 am (in bad weather the SMS remains closed)
Where? On the Mainufer in Frankfurt-Höchst (height Süwag), Schützenbleiche 65929 Frankfurt
More info at: <link http: www.schiffsmeldestelle.de _blank>www.schiffsmeldestelle.de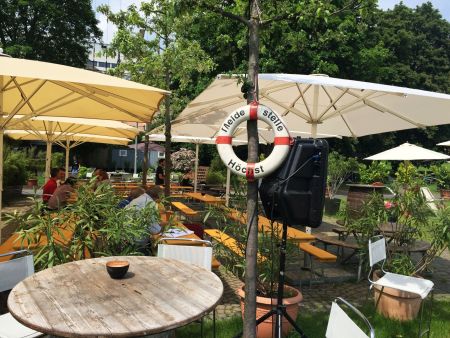 alt="" width="450" height="338" data-htmlarea-file-uid="19066" data-htmlarea-file-table="sys_file" style="" />