By the end of October, I was hell-bent: This year, I would do everything better. Draft a list of possible Christmas gifts, buy card in time and stroll at all relaxed organized with a Feuerzangenbowle over the Römer to the Schwenkgrill.
Five days before Christmas Eve, it would be time for a little reality check.
Let's start with the good news: New Year's Eve is in the bag. Location, menu - everything is arranged perfectly.
We want to underline that very thickly, before we let our pants down here -Have you already got all the presents? If not, then I have today gift ideas at the last push, if you ask yourself, what do I give for Christmas?
When it comes to decorations in the own four walls, I am anyway the type "Spartan", which enjoys like mad at the American-wasteful shining reindeer and Santa Clauses on the balconies in the neighborhood.
Candles burning on the Advent wreath.
But I have to pass on the Christmas tree already.

While on Facebook and Instagram, for example, the most amazing things are glowing, everything is bare in my house. Probably I walk as usual on the 23rd through the city in search of a puny something that is still looking for a home - out of mutual pity we arrange then.
Gifts. Well.

At the last minute, I ordered a picture frame online yesterday. And promptly messed up on the size. Now I'm anxious to see if the newly ordered product, will arrive on time. Keep your fingers crossed for me!
The thing with the gifts is getting harder every year, when everyone wants nothing more, because we already have everything. So what should I give for Christmas?
That's why I've become an expert for gift ideas for people who don't want anything and already have everything.
· For the practically inclined, I like to present practical things like chic and modern key rings under the tree.

· For the best friend, sister, sister-in-law, mother-in-law or favorite colleague, it's worth a trip to Skyline Plaza, where KOREANBEAUTYHOUSE has just opened.

The Korean beauty industry is known and loved the world over for its advanced products.

Trust me, give a sheet mask as a gift and you'll become a favorite person, The latest craze: the Eye Pads with Collagen - found in the store right at the checkout.

(Perfect for the small budget and as a small gift.)
· Great for gifting - gifts to decor always go. I'm giving away fancy pillowcases.

My good friend Britta once discovered a totally droll one on Berger Street - with pigs on it, which deeply impressed her mother ;-) It's not supposed to be that easy to impress mom

One of the greatest gifts I once received from a Japanese friend? A very, very cool tea towel. Hand on heart. You might think, at first glance, that this is really uncool. Not at all.

1. Always needed.
2. Usually buys itself very listlessly.
3. the recipient will be happy every time the utensil beautifies the kitchen.

For there is really no object in the home that is so commonplace that it does not deserve a prettier touch.

Frankfurt has many of these nice shops that offer stylish things. For instance, Noord. (address below).
·How about taking your best friend or good colleague to Craftbier Tasting? With a gift certificate to, say, Naiv?
· And last but not least: The perfect gift for the very difficult - like my Mr. Father, for instance. Comes from the generation of those who have always taken good care of the family, but think nothing is given to a man. *sigh*

So over the years, though, I've caught on to him.

Every man has a weakness, after all: yummy chocolates, cognac beans, nicely wrapped - and the feast is saved!
On that note, hope I've helped you with your last-minute shopping.

I wish all my loyal readers a relaxing holiday season as well as a Happy New Year!

New InsideFFMTips await you first thing Friday. January 3, 2020.
· The Noord, Friedberger Landstraße 119, Monday to Friday from 10.30 am to 7 pm, Saturdays until 4 pm
· Naiv, Fahrgasse 6
· Skyline Plaza, Koreanbeautyhouse Europe Allee 6, (subway station Messe U4)
· Wohnraum Berger, Schenken und Einrichten, Berger Straße 35
· Reining & Werth Genusshaus, Berger Straße 39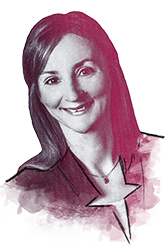 A contribution by Sabina Brauner