Frank Sinatra, The Doors, Elton John, Louis Armstrong, Santana, the Bee Gees, Kraftwerk, a-ha, Sting, Woody Allen - it is hard to believe which greats of rock and pop history have already stood on stage in the multipurpose hall in the Höchst district. They probably couldn't have dreamed of this when the building with its distinctive domed roof was designed by the well-known architect Prof. Dr. Friedrich Wilhelm Kraemer to mark the 100th anniversary of Höchst AG and opened in 1963. For a long time now, the myticket Jahrhunderthalle has been one of the largest and most important concert halls in Frankfurt and also in the entire Rhine-Main area, alongside the Festhalle and the Alte Oper.
Truly, the Jahrhunderthalle is not only used for large concerts, musicals and shows. Flea markets such as the Mädchenklamotte, exchanges such as the record and CD exchange or the gemstone exchange, as well as trade fairs such as the sustainability fair "Green World Tour" are also held here. And in 2023, the popular family festival Festival4Family will also take place here.
For some time now, anyone who wants to give their concert or show visit a very special touch has had the opportunity to buy a premium ticket. With it the Premium Lounge can be used before the meeting and in the break. This VIP area in 60s style offers fine-dining catering, drinks and a checkroom in the lounge area. In addition, the Premium ticket also includes a parking space in the VIP parking area. This premium upgrade is available for select events.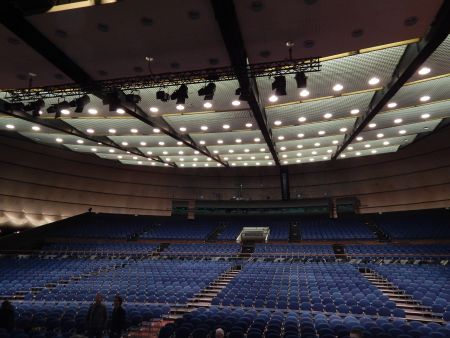 Who arrives by car, it should still be said that for the use of the parking lot a parking fee (8 €) is incurred, which must be paid immediately upon entry. Who wants to save this fee, which must use public transport.
For 60 years, the myticket Jahrhunderthalle regularly offers a first-class and varied program from Schlager to musical to cabaret, ballet and rock.
Address: Pfaffenwiese 301, 65929 Frankfurt am Main
You can also find more info at: https://www.myticket-jahrhunderthalle.de/