- Advertorial -
The history of the casino has far-reaching roots and is inextricably linked to its home town of Bad Homburg. Founded in 1841 by twin brothers Francois and Louis Blanc, the joint development of town and casino successfully took off and laid the foundation for the spa resort we know today. At over 175 years old, the casino in Bad Homburg is one of the oldest and most famous casinos in Europe and one of the top 5 in Germany.

To this day, the casino has lost none of its fascination and regularly attracts visitors from the entire surrounding area. But many international guests also find their way to the spa town, often via the nearby airport and the convenient train connections - attracted by the comprehensive, modern concept, the changing promotions and many extra prizes. But above all, visitors to the casino want one thing: to immerse themselves in the exciting world of one of the most traditional casinos in the world.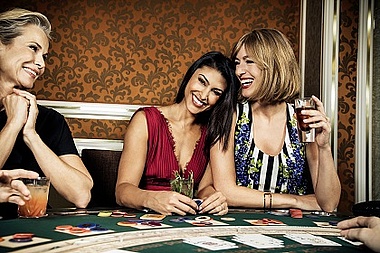 Versatile gaming options in a stylish ambience

A fascinating experience awaits fortune seekers in the Classic Game: In three spacious and stylishly furnished gaming areas, those interested can experience the classics roulette, blackjack and poker. With tournaments taking place regularly, many extra chances invite you to an exciting and entertaining gaming evening. Unique in Germany: the Ultimate Texas Hold'em Progressive Jackpot. Here, too, there are additional exciting chances to win.

Adjacent to the classic game, a multitude of machines on three levels invites you to countless gaming possibilities - from various slot machines to multi-jackpot machines to Europe's most modern digital roulette system, with which you can also connect live roulette kettles via camera transmission and integrate them into your game. For first-time visitors and those interested, the casino offers entertaining introductions to both classic and slot games every evening.

Exquisite culinary delights

Friends of good taste also experience real culinary highlights at Spielbank Bad Homburg: In the casino restaurant "Le Blanc" guests are spoiled mainly with regional and seasonal delicacies. Whether à la carte or exquisite menus, the chefs surprise connoisseurs with unique creations. The taste experience is rounded off by exquisite wine recommendations from the sommelier. At "Dostoyevsky's Bar" right next to the restaurant, guests enjoy delicious snacks, cocktails and an excellent view of the classic gaming area until late at night.




Events for night owls

Every weekend, Spielbank Bad Homburg opens the doors of its lounge to become one of the most popular party zones in and around the city. On Party Friday, with its changing series of events, the music goes straight through the ear to the dance floor: with 80s/90s party hits, with Latin American rhythms at Latin dance parties, with funky 70s grooves à la Studio 54, with the finest soul and best Schlager hits. But also Saturday has a lot to offer in terms of party mood: At the party night, popular DJs from the Rhine-Main region will be heating up the dance-obsessed night owls. Refreshment will be provided by a 360° cocktail bar with classic and newly inspired cocktails.

From train to shuttle service
Many roads lead to Bad Homburg to the casino. For those arriving in their own car, the multi-storey car park directly adjacent to the casino is available around the clock.
Those who don't want to get behind the wheel themselves can relax and take the train or, even more conveniently, use the casino's shuttle service. This takes pleasure seekers from Frankfurt's main station and the trade fair to Bad Homburg - and back again until the early hours of the morning.

Stylish dress code

A visit to the casino should be something special. This includes dressing in a special way. Therefore, T-shirt, jeans, sneakers and sandals should stay in the closet. Instead, you are dressed in a shirt or polo shirt and a jacket befitting your station.




Enjoy, gamble and celebrate - a visit to Spielbank Bad Homburg makes for an evening to remember.
Further information about the program, the in-house shuttle bus or even the dress code is available at www.spielbank-bad-homburg.de, by phone on 06172 17010, by e-mail at info@casino-bad-homburg.de or in person directly at the casino.

Address:
Kisseleffstraße 35, 61348 Bad Homburg v. d. Höhe

Opening hours:
Classical play: daily from 2.30 pm (Sun-Thu until 3.00 am, Fri+Sat until 4.00 h)
Automatic game: daily 12.00 - 4.00 h
Restaurant: daily from 18.00 h
Lounge: Fr+Sa from 22.00 – 4.00

Admission (ID is required):
Day ticket 2,50 €
Free entry in the slot machine game

You can find more info HERE.