The dinosaur Diplodocus longus, Senckenberg landmark and ambassador for the "Senckenberg 2020 - New Museum Project" moves into its new location on the
banks of the Spree River in Berlin on March 17. The life-size long-necked dinosaur is touring Germany to promote the conversion and new construction of the Frankfurt museum. Its journey is made possible by the OFFICEFIRST office property group.

28 metres long, seven metres high and weighing almost 2 tonnes - it's no ordinary parade when the long-necked dinosaur Diplodocus longus moves to the next stop on its tour of Germany. "After various stops in Frankfurt and a three-month detour to Hamburg, it is now time for a visit to the capital," explains Philipe Havlik, project manager in the Central Museum Development staff of the Senckenberg Gesellschaft für Naturforschung. From 17 March and into the summer, the large long-necked dinosaur will be greeting pedestrians and passing ships on the banks of the Spree. With him he has an oversized suitcase with stickers of all previous destinations and a clear mission: to win supporters for the planned reconstruction and new building of the Senckenberg Natural History Museum in Frankfurt.

The journey of the extraordinary fundraising ambassador is anything but easy: for the transport of the dinosaur, a so-called Gigaliner - an oversized truck - is needed. "And yet we have to break the diplodocus into five pieces. Moreover, it is often centimeters that decide whether and where we can assemble the dinosaur," Havlik adds. But the efforts are worth it: at the previous locations, the imposing model quickly became a crowd puller - and numerous dinosaur fans used the hashtag #DinoAufReisen, which was created especially for the trip, to post snapshots with the prehistoric giant on social networks.

In March last year, the giant dinosaur had left its regular spot in front of the Senckenberg Naturmuseum and is now drawing nationwide attention to the fundraising campaign "The World Builds Its Museum", which was launched to finance the conversion and new building of the Frankfurt museum. After stops at Frankfurt's Commerzbank Tower, THE SQUAIRE at Frankfurt Airport and Hamburg Eppendorf, the colossus is now moving to Berlin.

As part of the "Senckenberg 2020 - New Museum Project", the museum's floor space is to be increased from around 6,000 square metres today to 10,000 square metres. Four new exhibition areas will be created in the process: Man, Earth, Cosmos and Future. This will require a sum of around 56 million euros. Numerous companies have agreed to participate in the project. And many private individuals have already donated as well. The dinosaur's tour of Germany is now intended to reach out to supporters nationwide.
Find more info at: <link http: www.senckenberg.de _blank>www.senckenberg.de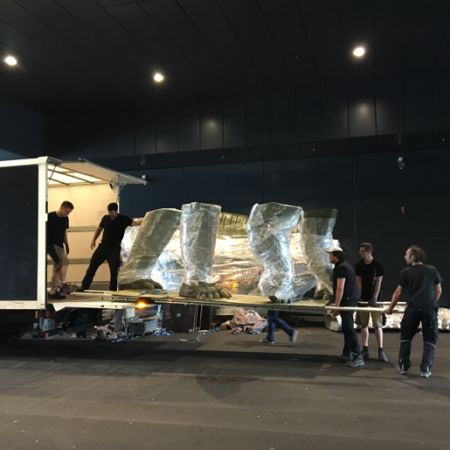 photo: Senckenberg