- Advertorial -

When talking about hemp, most people still think of joints and similar intoxicants. However, there are many cannabis products that do not have any intoxicating effect at all, but do have a beneficial effect on well-being. This is due to the fact that these are so-called CBD products. While THC (tetrahydrocannabinol) triggers a psychoactive effect, this is not the case with the ingredient CBD (cannabidiol) - which is extracted from the flowers of the female cannabis plant.
Instead, all-natural CBD products have proven helpful in finding inner balance - something that is important to many people, especially in a hectic city.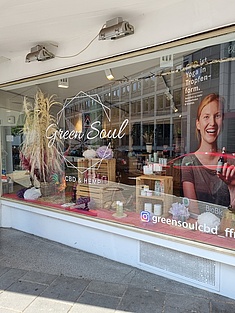 From certified organic cosmetics to premium oils
.
Generally, CBD products have enjoyed increasing popularity in Germany for some time now, which also means that the selection of products is increasing. The largest assortment in Frankfurt can be found directly in the city, between Kleinmarkthalle and Konstablerwache. In the owner-operated store Green Soul you will find over 200 products on 55m² of sales space - from aroma oils, certified organic cosmetics or CBD aroma flowers to micronutrients and food. In addition, there is something that is incredibly important in addition to the high quality of the products: competent advice and customer proximity.
For the owners Violetta and Frederick Feldmann, it is essential to optimally care for the customers and to take away any uncertainty that may exist. Anyone who shops in their store should feel passionate about the products, feel well looked after and be sure to get the right product for their individual needs.

In order to be able to guarantee this, Feldmann does not simply include every product in his wide range of products, which is constantly being expanded. Rather, the principle applies: "What we would not buy ourselves as customers, does not come on the shelf." In addition, it is regularly controlled by independent laboratory analyses that the limit value of <0.2% THC is not exceeded in the products offered.
So customers can be absolutely sure that everything here really 100% legal and 100% certified is.
Totally convenient online shopping
But also all those who browse and shop in the online shop are happy to get help - because advice is not only available on site in the store, but also on request by phone or by mail. It is this almost familiar closeness to the customer that distinguishes Green Soul in addition to the high quality of the products offered.

Best make yourselves a picture of it and look simply times in the shop in the Hasengasse 9 past.
The Green Soul-team is looking forward to seeing you!

Contact:
Green Soul - CBD <.x>Ampersand</x> HEMP
Hasengasse 9
60311 Frankfurt am Main
Tel.: 069 76704512
Mail: info@greensoulcbd.de
Instagram: https://www.instagram.com/greensoulcbd_ffm/
Facebook: https://www.facebook.com/Green-Soul-CBD-HEMP-100557191921043
Website: https://www.greensoulcbd.de/