Frankfurt is an exciting city. Historically, architecturally, culturally and especially culinary. However, discovering the variety on offer in the gastronomic sector is not that easy. Often you have two or three favourite restaurants that you visit regularly. There is often not enough opportunity to get to know something new. Or you simply don't know which culinary highlights might be just around the corner. But now there is a new way to expand your culinary horizons in Frankfurt. Because the successful Hamburg start-up Taste Tours, after cities like Hamburg, Munich, Berlin and Cologne, is now also preparing to conquer the Main metropolis.
The concept of Taste Tours, which Malte Steiert, founder of Foodguide, started in Hamburg about a year ago, is simple but ingenious: a maximum of 7 participants explore 4 hip gastro stops in 4 hours. Not only do you get to know nice people and surprising (taste) experiences. The locations also offer interesting insights into their history and the preparation of their delicacies. And at the end you are not only satiated but have also learned that it is worthwhile, especially in a city as colorful as Frankfurt, to simply look beyond your own nose.
For the launch of the Taste Tours Frankfurt, we accepted the invitation to participate in one of these culinary safaris through our beautiful city. Where the taste journey goes, you only find out during the tour. The tour is led by a guide who explains the concept, tells you something about the individual locations and breaks the ice between the guests. At a meeting point, which will be communicated in the days before the booked tour, the participants gather and can get to know each other over a first drink. Then it goes in a roomy Mercedes V-class large capacity sedan to the first station of the tour. This may well take a little while in Frankfurt's evening rush hour traffic, but the time can be used to get to know the fellow campaigners of the evening a little better.
Culinary World Tour through Frankfurt
Our first stop was the Argentinian restaurant OJO DE AGUA. In the listed building near the stock exchange, managing director Maximilian Graf von Saurma welcomed us to introduce us to the Wine & Beef Kontor. Already during a small tour through the basement, where we were allowed to admire a beautiful wine cellar and a part of the historic Staufenmauer, it became clear with how much passion Maximilian Graf von Saurma runs his restaurant. Whether he is talking about the history of the house, which has actually always had something to do with food, or about his first meeting with the legendary "Yello" musician Dieter Meyer, with whom he jointly brought his OJO DE AGUA to Germany, or about the interior of the restaurant, everything is filled with an infectious enthusiasm.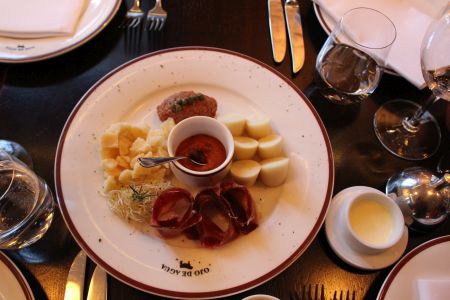 Served to us here was the OJO appetizer platter, featuring hearts of palm with tomato truffle chutney, spicy Iberico de Bellota ham, hand-cut beef tartare and parmesan chunks. There was also a taste of the tender filet, which is prepared here using the low-cooking method in a special oven. A delight!
And already the first 45 minutes of the tour were over and it went on to Dribbdebach. In the Sachsenhausen bridge district, Peruvian Dino Vallas awaited us at his restaurant LA PREFERIDA. Over Peruvian "national drink" pisco sour, the former teacher told us how he came to the small restaurant by chance. In 2015, he had opened "La Preferida" in Portugal after ten years in Frankfurt. When he then visited Frankfurt in 2017, he got to know a restaurateur on Wallstraße who offered to take over his premises. And so, without further ado, he opened a second "La Preferida" in Frankfurt's beautiful Brückenviertel.
Here he wants to offer his guests authentic Peruvian cuisine - without a lot of frills. Almost puritanically, the guest room is designed, which nevertheless radiates a pleasant coziness. We were not only impressed by the extreme friendliness with which we were welcomed here, but also by the extremely delicious dishes we were allowed to taste. In addition to spicy ceviche (raw fish with fresh lime juice, red onions, sweet potatoes and corn), the Papa Rellena, lightly fried mashed potato balls with beef, the Causa de Atun (mashed potato balls with tuna with avocado in Nikkei sauce) as an appetizer especially made for loud "Mmmmhmms." ensured. For the main courses, we got to try the creamy chicken dish Aji de Gallina and the Tacu Tacu de Carne with a sauce that was to die for. It was quickly clear to us: We'll be back!
For the third gastro stop, the TASTE TOURS bus took us to Eckenheim. Here, Nir Rosenfeld offers vegan cuisine from Israel at his KULI ALMA. Especially the meat-fans among the tour-participants were not exactly enthusiastic about this announcement. But what we were served here in an extremely charming ambience could quickly convince every skeptic. Besides some starters like hummus with pita bread, cauliflower with chive aioli or an Israeli salad with challa bread, it was especially the delicacies on the rich main course platter that left us all in astonishment and rapture. Whether it was vegan kebab, spicy chraime or spicy oyster and mushroom skewer, it was one taste explosion after another. Nir Rosenfeld then went on to reveal that his chef is very particular about using only very special spices. And the way he does it is simply brilliant.
Even though we were well satiated after this stop at the latest, we were very sad that the tour was almost over. But there was still one stop left. To say goodbye we went to a bar. More precisely, in the EMBURY BAR in the shadow of the Commerzbank Tower. Here, somewhat away from the busy Kaiserplatz, Dominik Falger has created a very pleasant retreat from the stresses of everyday life, offering his guests a selection of first-class spirits comprising around 1,200 bottles. Over delicious alcoholic and non-alcoholic cocktails, Falger told us about a special feature of his bar: ice. In the in-house ice lab, crystal-clear blocks of ice are produced over a period of three days, which are then shaped by hand or even with a chainsaw. His ice, which makes the drink much less watered down due to its high density, is also sourced from him by other hotels and bars.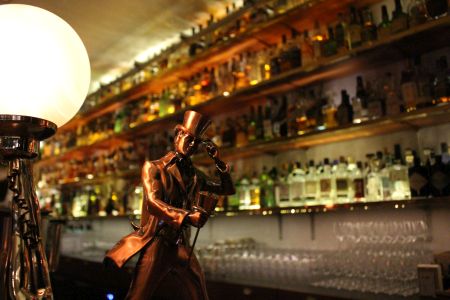 The bar, with its delicious cocktails and cozy atmosphere, provided the perfect end to an all-around great tour. However, these were only four of the more than twenty locations - with an upward trend - that are visited by the TASTE TOURS in Frankfurt. Here you can really discover the gastronomic diversity of our city. And don't worry: intolerances or important eating habits (e.g. abstaining from alcohol, lactose intolerance or vegetarian diet) can be specified when making a booking and will then of course be taken into account accordingly.
The tour costs 89€ - including food selected by the restaurateurs & drinks at each stop plus supply of alcoholic as well as non-alcoholic beverages during the trip. Good food, nice people, relaxed rides to each location, and very nice supervision by your guide - all make every penny of the cost worthwhile here. The tour is also perfect as a gift or a small team event.
For more information such as participating restaurants and bars, visit: https://frankfurt.tastetours.de/