When you stroll through the streets of our beautiful city, you're always struck by how often history and modernity collide here - for example, Germany's unique skyline on one side and the historic old town on the other. As fascinating as it may be to see the direction in which the Main metropolis is developing, it is particularly exciting to be able to immerse oneself in the city's eventful history at many points. Since summer 2020, there has been a very unique way to immerse yourself in Frankfurt's past: With TimeRide Frankfurt, a gateway to the 19th century will be opened to you that perfectly combines virtual reality and museum edutainment. No wonder it was awarded the German Tourism Prize in 2018!
TimeRide GmbH, founded in Munich in 2016, has opened its fifth location with Frankfurt. The visit to this location for virtual and multi-sensory discovery tours into the past starts first in a colonial goods store from around 1830. Here, guests are greeted by the fictional Frankfurt merchant Theodor Riedel and introduced to some of the goods and specialties that were common for the time, such as dried tobacco or licorice. It is not only an extremely interesting, but also very charming start of the journey through time, characterized by impressive detail.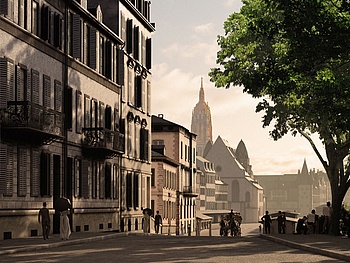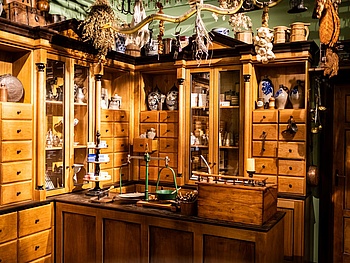 Next is Riedel's study. In this again very authentically designed room from the Biedermeier era, Frankfurt's history up to industrialization is virtually revived on two large books. After this little history lesson, it is clear that the visit is already worthwhile for anyone interested in the city's history. But the real highlight awaits at the third station: here, visitors embark on a virtual ride through the Frankfurt of 1891 in a faithfully detailed replica of a panoramic carriage, with virtual reality technology providing a 360-degree all-round view of historic Frankfurt.
That this has turned out so authentically is thanks to an enormous amount of research. Using paintings, early photographs and descriptions in non-fiction books and literature, old Frankfurt was virtually reconstructed down to the smallest detail. Along the route, which leads past St. Paul's Church to the banks of the Main River and from there toward the main train station, 490 buildings, five bridges, 34 ships, 62 carriages, 2277 people, and a wealth of flora and fauna can be admired. No matter where you look, everywhere there is something to discover. Simply magnificent!
The grand finale of this carriage ride is the opening of the legendary Electrotechnical Exhibition of 1891, a truly grand finale for a very special time travel attraction that uses modern technology to bring history to life. This is perfect as a gift, for a family outing (with children ages 6 and up) or as a special history lesson for (school) groups. The TimeRide tour lasts about 45 minutes.
You can find all the other info and the current hygiene regulations at: www.timeride.de/frankfurt

Info:
Address: Berliner Straße 42a, 60311 Frankfurt.
Opening Hours: You can find the current opening hours HERE on the TimeRide Frankfurt website.
Tickets (online reservation recommended):
Adults €14.50
Discounted 12,50 €
Families 36,00 €
Groups (from 8 persons): 13,50 € per person
School groups: 8,00 € per student
- Advertorial -