Gold has always held a great fascination for people. And this has not changed until today. So it's no wonder that Julius Leineweber, one of Germany's leading experts on gold, beams when he says: "Gold is magic around the world" The managing director of Premium Gold Deutschland GmbH, which is based in Heusenstamm, south of Frankfurt, deals with the precious metal of lasting value every day. But besides buying and selling gold at the best prices, Leineweber also takes care of other products that are all about gold.
Gold gift cards for various occasions
The portfolio of PGD contains, for example, over 160 gold gift cards. There is something for every occasion. Whether for Christmas, birthday or anniversary the individual gold gift card, is always the appropriate gift and guaranteed a real eye-catcher. Even clubs or companies can have their logo and a motif printed on the card. In addition, the small gold bar with 0.5 grams 999.9/1000 fine gold.
Children's Gold Account (KGK)
The PIM has a has launched a free children's gold account for children and young people under 18. Anyone can open a free (KGK) for their child, nephew or niece or grandchildren. Already with small amounts (from 25,00 <x>ampersand</x>euro;) physical gold can be bought monthly. The long-term and regularity lets them benefit from the cost-average effect.
The special feature of the Kinder Gold account is a 3% loyalty bonus that the customer receives at the beginning of the year on the deposit amount of the previous year. In addition, the customer has neither closing nor storage costs. Here, every cent is exchanged one-for-one for physical gold. If a purchase sum of 3,000.00 <x>ampersand</x>euro; is reached, the customer gets 0.5% bonus gold per month. As long as the gold is in the deposit, ONCE!
More info can be found at: <link http: www.goldenekinder.de _blank>www.goldenekinder.de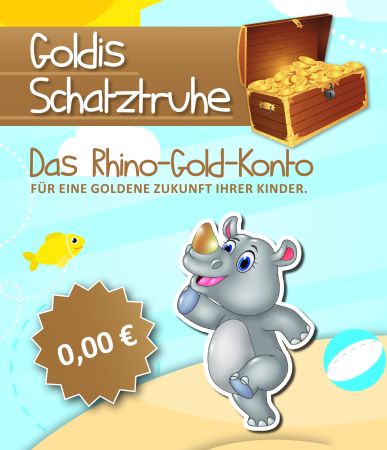 Gold bars:
And then, of course, there are the gold bars. An investment or savings model where even with the smallest savings installments, you enjoy the same high interest or profit share from the start as you would with a large-volume investment. Regardless of whether you choose a 1-kilogram storage bar in a deposit, the 100-gram hand-held gold bars for your home, or the chic 10-gram gift bars in modern check-card format - gold is worth the same right from the start, at any time and anywhere in the world. From small to big budget, there is something for everyone.
Now if you got interested to know more about this "gold" topic, you can get more info at: <link http: premium-gold-deutschland.de _blank>