A Sneak Preview like in the cinema - only better.
Rousing music, goosebump moments and pure festival feeling - you will experience this and much more at the Music Sneak energized by Süwag on the summer meadow at the resp. in the club of myticket Jahrhunderthalle.

The organizers open the curtain for three exclusive acts of different genres. Who will they be? That remains secret until the performance. Promising artists get the chance to inspire an unbiased audience at the Music Sneak. The Music Sneak rocks - literally - the poetry slammer Finn Holitzka. In a stylish sixties setting in the CLUB or open air on the summer lawn he will accompany you through the unforgettable evenings.

Under the motto "energized by Süwag", Süwag is committed to the promotion of young musicians at the three MUSIK SNEAK shows planned this year and supports the live concert experience on 20 August, 01 October and 17 December 2022.
In recent years, a total of 66 talented acts from a variety of genres already thrilled the visitors:inside with innovative sounds and electrifying live performances.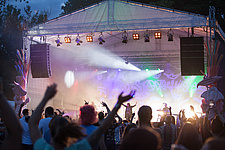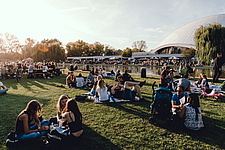 MUSIC SNEAK Shows 2022:

> 20. August 2022: Music Sneak Summer Meadow
> October 01, 2022: Music Sneak
> 17. December 2022: Music Sneak meets Bandpool

For more info about MUSIC SNEAK, visit https://www.musicsneak.com/.