Successful premiere at Theater Alte Brücke
With the play "The Dirtbag with the Hat" Alexander Beck started a New York anthology with plays by Stephen Adly Guirgis at his Theater Alte Brücke last year. He is continuing this in the new season with "Sister Rose", which has been celebrated on Broadway. In the play, after the death of Sister Rose, twelve people whose lives she has influenced gather to say goodbye to the dead woman. But her body has disappeared - and while the police search for the dead Sister Rose, her former "children" are left to deal with their own lives. And that's not always easy.
"Sister Rose" is not light fare - but it's all the more recommendable for that. The play is further proof that the Alte Brücke theatre is bringing a breath of fresh air to Frankfurt's cultural scene. And that is definitely a good thing. However - and you have to be able to get into this - the work not only has a high entertainment value, but also some very challenging moments. For instance, one character carries around a terrible guilt that is hard for the audience to bear as well. And when the good-natured Pinky, played magnificently by Erik Barth, bursts into tears under the loud rebuke of his brother Edwin (Alexander J. Beck), that also gets to the audience. And the outbursts of the agitated Norca (Aniko Nagy) also have a great emotionality. However, this is also counterbalanced by some lightening moments, so you don't have to worry about being crushed by the weight of the story.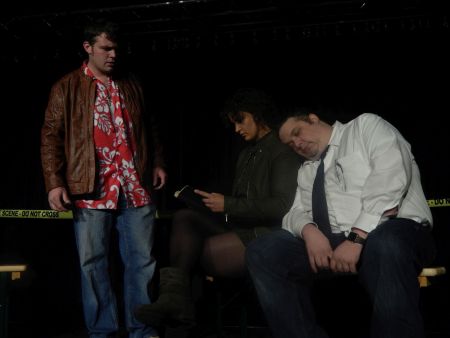 In ten scenes, this allows some brief glimpses thrown into the sometimes utterly messed-up lives of the protagonists. Gradually, through their conversations, you learn more about their pasts and their relationships with each other. Numerous conflicts are set up for which there is some resolution, but no redemption. The play leaves the protagonists almost as abruptly as it introduced them to the audience. This, too, makes "Sister Rose" not necessarily a work suitable for light sprinkling, but it also builds up a certain realism.
The individual scenes are sometimes wonderfully funny, then again touching or depressingly intense. If you could laugh heartily just now, this gets stuck in your throat only a few moments later. Profound wordplay and mercilessly frank words that hit you in the stomach with full force alternate here with beautiful regularity. That this works is not only due to the really good ensemble on stage, but of course also to the book. Alexander J. Beck has translated "Sister Rose", as he did before the "Dirtbag with the Hat", from English into German himself. In doing so, he has managed the feat of retaining the thoroughly American character of the play, while at the same time giving it a distinctive flavour that is accessible to German audiences. That he has succeeded in this is evident from the fact that the language does not seem artificial, but very authentic - even when it is repeatedly made quite clear that this play is set in New York and not in Frankfurt.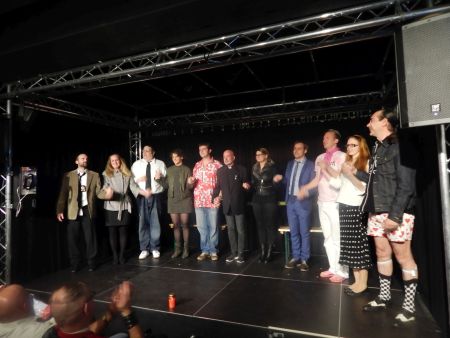 With "Sister Rose" Alexander J. Beck and his team from Theater Alte Brücke offer somewhat different fare by local standards, through which the versatility of the program offered in the small theater is also revealed. And since the third and last play of the New York anthology is to be quite different again, one can already be curious about the next Stephen Adly Guirgis adaptation. (Text by Sebastian Betzold)
For more info on the play and the seasons, please see our calendar of events at: <link https: www.frankfurt-tipp.de veranstaltungen s event schwester-rose.html _blank>
www.frankfurt-tipp.de/veranstaltungen/s/event/schwester-rose.html