What a soccer thriller that was: first striker and captain Alexandra Popp surprisingly drops out a few minutes before kickoff, then the English team took the lead in the 62nd minute after a scoreless but first-class first half. But the team of national coach Martina Voss-Tecklenburg was not intimidated by this and in the 79th minute Lina Magull managed to equalize.

Only in extra time Chloe Kelly kicked the English team to victory at London's Wembley Stadium after a corner kick. As unfortunate as that may be from the German point of view, it doesn't change the great performance of the DFB women, especially goalkeeper Merle Frohms, who held her nerve in many a dicey situation.
Today, the fans in Frankfurt proved that even runners-up in the European Championships can be properly celebrated. After the entire DFB squad had already been warmly welcomed upon landing in Frankfurt, numerous fans gave the players and their coach a rousing reception on Römerberg. Around 7,000 people cheered on the DFB women. Later, the players and the national coach signed the city's Golden Book at the Römer. "On Sunday, we experienced the end of a tournament, but also the beginning of something really big. We can all look forward to that," DFB President Bernd Neuendorf praised the European Championship performance, adding: "Of course we hope to attract many women and young girls into soccer through this wonderful tournament."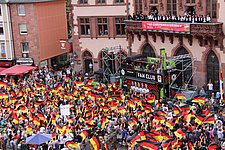 The great atmosphere that then waited for the team on the Römerberg then let the disappointment about the lost final fade into the background for the time being. Even national coach Martina Voss-Tecklenburg could find her smile again in view of this appreciation by the fans. The cheers of the people and the super atmosphere on the Römerberg sent a very clear message to the team: You are the winners of the hearts and have delivered a more than first-class European Championship! Thank you for it!!