In the difficult times of the Corona crisis, it is often the small moments of happiness that drive away for a short time all the worries and uncertainties that plague us. Such important moments of happiness can be found since this week again at ANTIPODEAN Gelato, a really special ice cream parlour in Frankfurt's Nordend. Here, Australian-born Rachel Dodoo-Mehl and her team offer a constantly changing assortment of ice cream varieties made from the best ingredients. Currently, Red Dragon, Blood Orange, Choc Sorbet, Vanilla, Pistacchio, Coco Mango and Salted Coconut are among the ice cream flavours that will delight ice cream fans. In addition to seasonally changing flavors and popular classics, there are also specialty flavors each week that are only on sale for a few days.
Rachel Dodoo Flour relies on natural ingredients to create the ice cream creations, whose recipes are developed with 2017 World Gelato Champion (U30) Taila Semerano. Chemicals, artificial flavor enhancers or powder from the factory - at ANTIPODEAN Gelato, that doesn't enter the (ice cream) bag. And it impressively proves how good ice cream made from natural ingredients - sourced locally wherever possible - can taste. The taste is clearly in the foreground here. However, the environment plays a major role not only in the ice cream itself, but also in its production. For this reason, the most modern ice cream machines were purchased for this ice cream parlour, which consume very little energy and run on 100% green electricity. In addition, spoons, cups and napkins that are handed out to customers here are compostable.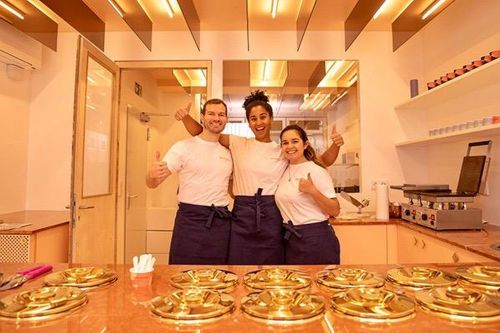 After the re-opening, which was actually planned for the end of March, had to be postponed due to the Corona pandemic, Rachel Dodoo-Mehl and Christian Mehl took advantage of the forced extension of the closure to bring together more than 40 other ice cream parlors from Hesse under the title "Die kleinen hessischen Eismacher" as an association of interests. But now they are very happy that they are finally allowed to sell their very, very tasty ice cream again - of course under strict hygiene conditions. So for the time being, unfortunately, the ice cream is not available in the delicious home-baked waffles, but only in cups. You can only pay with a card and of course you will only be served with a face mask. And for the customers: Please keep the necessary distance and do not eat the ice cream directly on the spot.
All this does not change much about the high quality that is offered here (and for which one also gladly pays a little bit more) and the extreme cordiality with which the ice cream is served. The smile that the team at ANTIPODEAN Gelato likes to give its guests is something you can feel even through the mouth guard. It's quite clear: If you love ice cream, you should definitely take a look at this ice cream parlour in the Nordend.
Address: Bornheimer Landstr. 18, 60316 Frankfurt am Main
Opening hours: Tue - Sun open 12pm-8pm
More info: http://www.antipodean.de/deutsch